Interdisciplinary approach, risk-taking, and real partnerships are the main ingredients of research with strong societal impact. The Helsinki Challenge Global Impact Camp in Brussels focused on societal impact of research, funding and collaboration.
"Emphasis on impact is very welcome, but without false promises", concluded Kurt Deketelaere, Secretary-General of the League of European Research Universities the high level seminar and a panel on grand societal challenges and the impact of science.
The EU decision-makers and experts all agreed that building global partnerships in all fronts is necessary in order to find solutions to global challenges. This means tearing down the walls between scientists and political decision-makers and especially by strengthening the interdisciplinary approach in research.
Last year the United Nations agreed on 17 sustainable development goals and they are also the framework for Helsinki Challenge. "The United Nations' goals for sustainable development stand a chance only if we work together globally", Deputy Director of the United Nations University Anthony Antoine told in his keynote speech. Another keynote speaker, Vice-President of the European Commission Jyrki Katainen said that sustainable development is in the heart of all policies in the European Union and the commitment to science is needed more than ever in order to face the global challenges.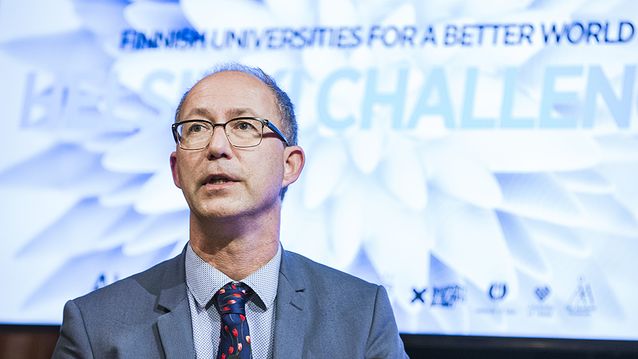 Solution driven, multidisciplinary science challenges like Helsinki Challenge were warmly welcomed in the panel discussion.
"We are not saying that there is no place for fundamental research. There is and there should be place for creativity in fundamental research", Vice-rector for Research at Utrecht University Wiljan van den Akker said.
He demanded a better narrative on why the fundamental research is being done. Stronger communication will strengthen the link between research and the society. Nora van der Linden, Director and social innovation advisor at Kennisland thought the societal impact should be defined already in the very beginning of a research project. This way the full potential of the society would be taken into account and stakeholders would feel ownership over the knowledge.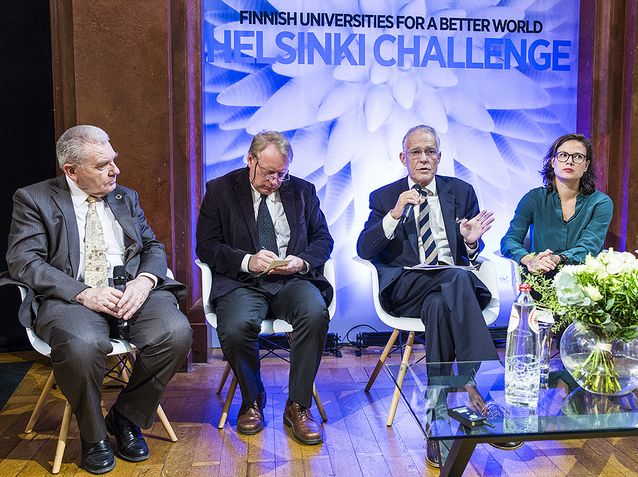 Wiljan van den Akker emphasized the need for new teaching methods in encouraging the new generation to think outside the box and build partnerships.
"We should focus on the next generation. Younger generation wants to engage with the society and try new ways to do research."
Jean-Pierre Bourguignon, President of the European Research Council encouraged universities and research institutions to give possibilities to young researchers to realise their full potential. Markus Nordberg, Head of Resources Development of the Development and Innovation Unit told that in CERN young student groups are invited to work together with experiences scientists to find new, unpredictable solutions.
After the open high-level session Helsinki Challenge continued with intense coaching, mentoring, and co-creation. The European capital of collaboration and networking was an ideal place for the seven finalist teams to present their work and build partnerships to strengthen the societal impact of their scientific solutions.