Robots may not yet walk among us, but they are already making decisions for us. We are entering a new era of intelligent machines, with immense uncharted scientific waters, say Helsinki Challenge finalist team Moralities of Intelligent Machines. The team of cognitive scientists is studying how human moral emotions function with intelligent machines, artificial intelligence and the robotification of our society.
MOIM is creating a whole new field of research to study human expectations of the moral decisions that intelligent machines might make. What if, for example, a care robot administers medicine to a patient who then dies - who do people find responsible for the death: the robot, the person who gave the medication to the robot, or possibly the company that made the robots? This research could help whole industries working with new decision making robots. We also need well-researched international legislation concerning automation and artificial intelligence, the team says. The team's research idea has already sparked a lot of media interest, too.
"We recognized the gap that exists between human-computer interaction studies, moral psychology and philosophy", says team leader Michael Laakasuo.
Cognitive Science in uncharted waters
If you google "Moral Psychology of Robotics", the only result is the Laakasuo's team's own Helsinki Challenge competition entry. But the issue of the moral questions concerning intelligent machines is only going to become more relevant, as technology affects all fields relevant to everyday life, from transport to elderly care and law enforcement.
"Most of us have an elementary intelligent machine in our pockets. Smartphones make decisions for us all the time, choosing routes and giving directions", Laakasuo says.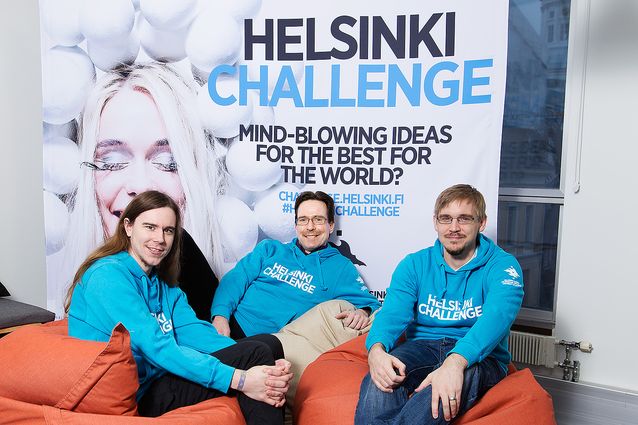 PARTNERS: Transor (DK), AllegraLab, Intelligenzia and AIRO Island as well as artists to create bridges between arts and sciences.
TEAM: Team leader Michael Laakasuo (researcher, UH), Mikko Salmela (adjunct professor, UH, Dep. of Politics and Economy, Practical Philosophy), Jussi Palomäki, post-doc (Newcastle University School of Computing), Marianna Drosinou (PhD student, UH, IBS), Nils Köbis (PhD student, VU University of Amsterdam, Department of Social And Organisational Psychology), Markus Jokela (ass. professor, UH, IBS).