Generation Green, who made it to the semi-finals of the Helsinki Challenge competition, has actively continued its operation in reducing the environmental load of pharmaceuticals. Large amounts of medicines end up in nature through sewage. The drug residues cause interferences to the ecosystem, such as the deaths and mutations of fish.
The team is working with the university's faculty, pharmaceutical companies, pharmacy and nursing staff, environmental scientists, and political decision makers.
Once a month the team organises a seminar, where faculty from different fields tell about their own teaching and research field from a sustainable development perspective.
"We aim to get the university's faculty to explore their own teaching and research topics from the perspective of sustainable development, and pass on the thinking to their own departments," explains Generation Green's team leader and university researcher Tiina Sikanen.
Results through active cooperation
Generation Green organises seminars for pharmacy and nursing staff, and cooperates with Pharma Industry Finland and individual pharmaceutical manufacturers. Pharmaceutical companies do not produce environmentally harmful drugs on purpose. Medicines that are effective and safe for humans often have structures that are very toxic to nature. Cooperation with the pharmaceutical industry facilitates bringing about change.
"It is important to develop medicines that are safe for both humans and nature."
The team aims to influence legislation by informing decision makers. Member of the European Parliament Sirpa Pietikäinen became interested in Generation Green's work, and has invited the team to Brussels as part of a larger delegation, which has tightening the environmental regulations of the pharmaceutical industry as its goal. At present, the team is preparing a draft for the meeting.
"It is not sensible to try to change legislation at a national level, since stricter laws in Finland would mean a competitive advantage for other EU countries. Legislative changes have to happen at the EU level."
The green generation
At Helsinki Challenge, Generation Green sought funding for improving pharmacy education so that sustainable development perspectives could be introduced into teaching.
"Pharmacy studies are highly regulated and you can't easily add new features to them. Teaching about the environmental aspects has previously been down to the teachers' own interests, but now it has been added to the curriculum."
After Challenge, the team succeeded in adding environmental thinking to a pharmacist's study programme, i.e. a master's degree in pharmacy. Starting next autumn, studying medicinal lifespans will also explore the different stages of a drug from a sustainable development perspective.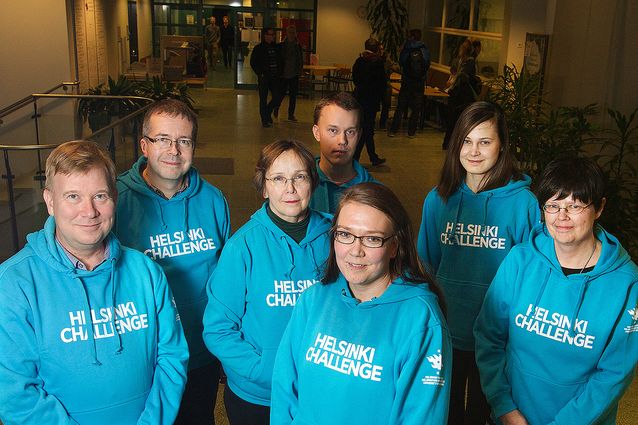 An interdisciplinary work group conducts higher quality research
When environmental scientists examine the concentration of drugs in nature, they often measure the concentration of the original form of the drug in waters and elsewhere in nature. However, the molecular structure of a medicine changes as it passes through the human body. The altered form often goes unmeasured in studies.
Following Helsinki Challenge, the Finnish Environment Institute SYKE contacted team Generation Green, and the team is now working together with SYKE on different research projects. Thanks to the cooperation of pharmaceutical and environmental science researchers, it is possible to identify the remnants of different drugs more accurately, and to get a better picture of the concentration levels and effects of different drugs in nature.
Watch Generation Green team at the Helsinki Challenge PitchNight here and here