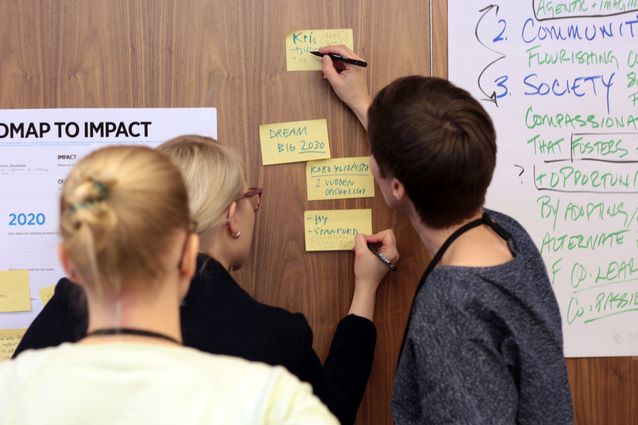 In September, the finalist teams of Helsinki Challenge take their solutions to Brussels to meet decision-makers, mentors and possible collaborators at Global Impact Camp. As co-creation is the essence of Helsinki Challenge competition and accelerator, events like these are important for the competing research teams.
The first Impact Camp in April gave many teams completely new perspectives on their work and helped to clarify the road to impactful science. This time, the Global Impact Camp in Brussels will be a two-day event with a focus on societal impact of research and co-creation with international experts and EU decision-makers.
Member of the European Parliament Sirpa Pietikäinen will open the event together with the Chancellor of the University of Helsinki Thomas Wilhelmsson. Pietikäinen is excited to participate to Global Impact Camp because she finds the atmosphere of Helsinki Challenge valuable for innovation.
"Helsinki Challenge has an amazing spirit that encourages to think outside the box. During the Global Impact Camp, I expect to hear great ideas and see people who get inspired to raise the bar even higher," Pietikäinen says.
Pietikäinen is well familiar with Helsinki Challenge as she acted as a mentor in the competition in 2015. The only downside she found when mentoring at Helsinki Challenge was that there were so many revolutionary ideas and only one prize.
"Finding funding is easiest for those who do not question the prevailing practice. How about those who truly change our views? We need to promote research that challenges the way we think."
According to Pietikäinen, the current discussion about global societal challenges is not sufficient to reach the UN's sustainable development goals.
"There is a lot of talk about global challenges such as climate change but people seem to be afraid to take big leaps and major steps. The current system does not cultivate wild inventions. We need to seek for a shift in paradigm."
The Global Impact Camp includes both public events such as the opening panel discussion and individual co-creation sessions with the teams and selected mentors. The aim of mentoring is to find the ways for creating maximum impact with a feasible scientific solution. This might mean a better design of the solution, finding funding, target user definition, problem definition or new collaboration and networks.
Pietikäinen believes Global Impact Camp supports a bold approach to global problems and works as a platform for matchmaking.
"I hope that the event will replace 'this cannot be implemented' with 'great idea, what if…' and 'I know someone who could promote this'," Pietikäinen explains.
"What I like about the Helsinki Challenge is that it does not limit creativity. Agenda 2030 goals provide the destination, but we have to figure out the routes to get there. We need courage to challenge the status quo."
More information on Global Impact Campand event programme here, register for the event here.