After the Helsinki Challenge competition, things are going just as Helsinki Sleep Factory had planned. Research work and developing the sleep application are progressing side by side, a nice amount of funding has been received and all essential partnerships are in place.
"Just about everything that we planned at Helsinki Challenge is coming true," rejoices team leader Anu-Katriina Pesonen.
The team got their idea planned so far ahead at the Helsinki Challenge competition that all that remained was its execution. And that is what the team is doing now. They are developing a motivational and empowering virtual sleep programme, which helps adolescents to learn about their sleep and their circadian rhythm. The programme does not only focus on sleep, but also on daytime alertness and activity regulation. The objective is to help adolescents become interested in improving their own sleep.
"We noticed that young people are often worn out by school and hobbies. We are developing an application that doesn't increase their load, but instead is fun, rewarding and easy to use," says Pesonen.
Research brings impetus to application development
The team does population-based research on sleep disorders, that is, screening for adolescents with sleep disorders from all the 16- to 17-year-olds in Helsinki and randomly allocating them to different treatments. One of the treatments is Sleep Factory, the sleep application developed by the team. When the team has collected experiences of using the sleep application as part of a sleep disorder treatment, they can start developing a commercial version for wider use. The goal is to acquire new information on treating sleep disorders and to get young people worldwide to use the research-based application. The only way to reach this goal is by conducting experimental research using good sleep research methods.
A games developer belonging to the team and an external technology company are developing and coding the application. The first version of the app will be ready in June and the beta version will be ready for research use in August.
Pesonen received funding from the Academy of Finland for a wider project investigating adolescents' sleeping difficulties, which she had already applied for before Helsinki Challenge started. After the competition, the whole team received funding from the City of Helsinki's innovation fund for the project they formulated during Helsinki Challenge.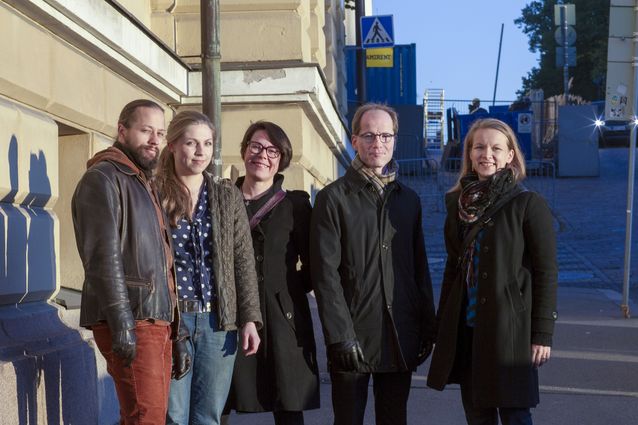 The competition provided the opportunity to improve the idea
The reason behind the project progressing smoothly is that the team planned their sleep programme realistically and thoroughly during the competition.
"We planned a very accomplishable package, with this feasibility of the idea being our aim throughout. It was important that the idea could be executed within a short time span, that it is possible to get results from it, and that it adapts to a conceivable budgetary scale," Pesonen summarises. A global impact is sought through a well-prepared and researched solution.
Helsinki Challenge was a good learning experience for the team in how a multi-stakeholder project is taken forward. Challenge gave the team new ideas about how partners can be found from surprising fields. Challenge taught to think about the impact of research more broadly. On the other hand, one must also remain careful when doing so.
"Especially when finding partners, you have to think carefully about your and your partners' roles. Not everyone who is interested has to be added to your thing. You yourself have to have a clear mind of what you want, otherwise the direction will be lost."
Helsinki Sleep Factory has increased their cooperation with the Finnish Association for Mental Health. In the autumn, the mental health association's website will feature an information pack on sleep disorders for adolescents and their inner circle. Together with the City of Helsinki's Education Department, the team is also making a helping model for adolescents with sleep disorders, which the sleep application is related to. The project has also spawned new initiatives and corporate collaborations concerning sleep and its measurement.
In its entirety, the Helsinki Challenge year was educational and rewarding for the team.
"This type of interaction and sparring is a very rare treat for a researcher. Comments always come from within your own field, but now we received mentoring from different areas. It was very interesting," Pesonen reflects.
Watch Helsinki Sleep Factory pitch in the Helsinki Challenge Grand Finale here