It is possible that research project NEMO had not emerged if Katri Saarikivi and Valtteri Wikström had not applied for the Helsinki Challenge competition in 2014 encouraged by their colleague Tommi Makkonen. NEMO - Natural emotionality in digital interaction aims to further understanding on the mechanisms of empathy and interaction, and to develop new ways to digitise and transmit emotions online. It was awarded as the winner of Helsinki Challenge in 2015.
"The most significant effect of winning the competition was that it enabled the research. We created the idea and collected the research group originally for Helsinki Challenge," says Wikström.
"As a public process it also helped us find contacts. We probably wouldn't have had the resources for similar publicity," adds Saarikivi.
Now the researcher duo is leading a new project on interaction and empathy at work – a 1.5 million collaboration with three universities and ten partner companies. The two-year project is funded by Finnish Funding Agency for Innovation Tekes.
As planned, the NEMO project has focused on three kinds of activities. Basic research, prototyping and Emotion Hack Day hackathons. There is still analysis and reporting to do and one Hack Day to come.
Saarikivi and Wikström have received many contacts during and after the competition, as many people and businesses are interested in co-operation. They have presented research findings and prototypes at scientific conferences abroad, organised a workshop in Barcelona with Finnish Composers' Copyright Society Teosto and collaborated with a research group at Stanford University.
Helsinki Challenge clarified the idea
In 2014, Saarikivi was working on her doctoral thesis while Wikström was finishing his studies and starting a company. Then Makkonen suggested Helsinki Challenge.
"We were all interested in interaction and emotions. The original solution was about developing socio-emotional skills. During the competition we focused on digital interaction and technological applications," Saarikivi says.
The accelerator process enabled the teams to concentrate on the solution and guided the way.
"Impact Camp was useful because it gathered our big group of busy people together. The competition helped us create a clear plan for the research project," Wikström tells.
"The tools and assignments gave structure for the planning. Asking what we want to achieve, when, how and with whom is necessary if you want to get things done," confirms Saarikivi.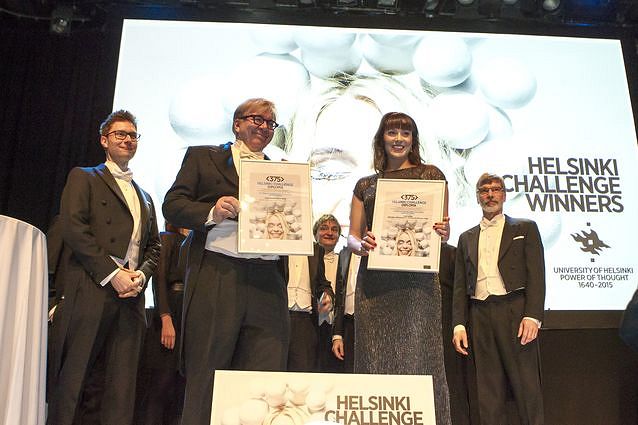 The competition pushed the team to think about communicating the solution to people who are unfamiliar with their subject.
"I had to pitch and describe the solution so many times during the competition; it has improved my skills to talk about research intelligibly and briefly. It made us crystallize our thoughts. This was an advantage when applying the Tekes funding later," says Saarikivi.
The researchers also enjoyed learning about other research fields while discussing with the other Helsinki Challenge teams.
Searching for digital empathy
The new project is directly linked to NEMO. Quantifying Human Experience for Increased Intelligence Within Work Teams and in the Customer Interface is conducted together with University of Helsinki, Aalto University, University of Oulu and business partners.
"I want to deepen the understanding on brain mechanisms related to empathy and on the markers of successful interaction, and then bring this knowledge to digital interaction environments. NEMO is a good start. We will probably apply for further funding to continue research on the most essential questions because answering them requires laboratory experiments," Saarikivi describes.
The need for open and visible science
Saarikivi and Wikström appreciate Helsinki Challenge as an open, modern way of communicating about science and funding it.
"There are few funding calls nowadays that allow researchers to freely explain and decide what they wish to investigate and why. It is important that universities support creative thinking and these kinds of 'risky' initiatives," Saarikivi laughs.
"There should be more action to make science visible in society. Especially about how research is conducted and how we create reliable new knowledge about the world and ourselves, not just about single studies, results or applications."
Saarikivi and Wikström cheer on the finalist teams of Helsinki Challenge 2017. Many of the finalists that did not win in 2015 gained funding elsewhere.
"If you've made it this far, you must have a good solution and a great team. Believe in what you do, regardless of how you fare in competition," Saarikivi says.
"There are different kinds of solutions in the final so you can't really compare them. They are the best already," Wikström adds.