Cancer treatment made more effective and personalized with mathematical tools.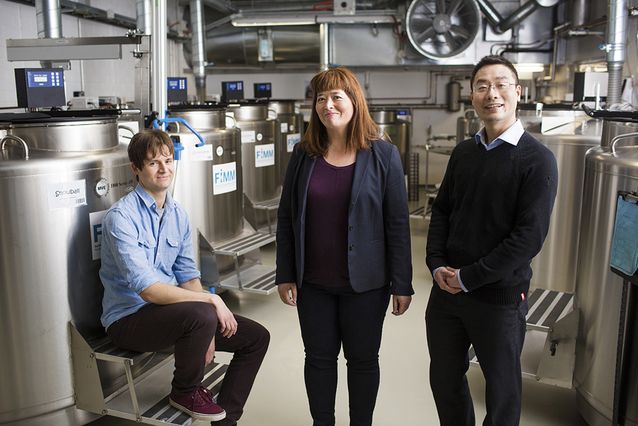 iCombine's team leader Jing Tang felt excited when he heard their team was chosen for the final stage of the Helsinki Challenge competition.
"Our team has a strong background as a research group and we have worked really hard to develop our solution. We are definitely going to celebrate our team and our place in the finals before the summer holidays", rejoices Tang.
The team aims to create a way to find the most effective treatment for individual cancer patients. At the moment only 25 % of cancer drugs have some benefits for the patients. iCombine wants to help clinicians find the right drug for the right patient at the right time. Their data integration platform helps translate biomedical data into specific treatment options.
Raising awareness for personalized medicine
Cancer is a disease that may affect many of us one way or another. According to the team, people may not know about the benefits of personalized medicine. Currently iCombine is trying to raise public recognition for their work worldwide.
"Helsinki Challenge has offered us tremendous opportunities. Yesterday I was pitching our solution to a group of Chinese journalists. We have also been in contact with experts in India", tells Tang.
For Tang, the Pitch Nights have been the most interesting and unique experience of Helsinki Challenge. Tang and his team prepared thoroughly before every pitch.
"We had our own rehearsals before both Pitch Nights. It has been important to practise together and get feedback from the team. The accelerator program has really raised our team spirit. We have had more chances to talk about how to reach out to people and how to discover something new that is not within our own research area."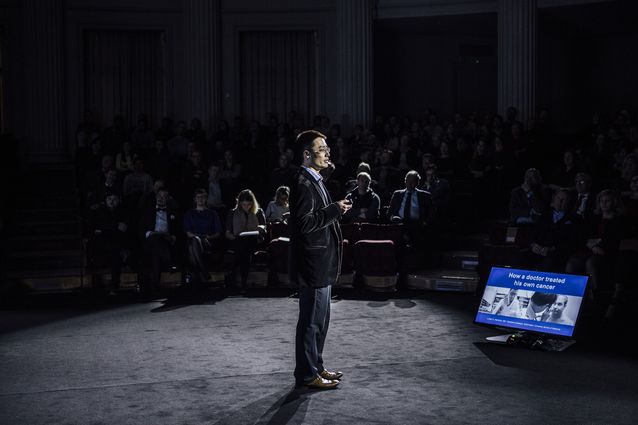 Support of the whole community
During their Helsinki Challenge journey, the team has found new collaborators and formed a community of supporters around them. The team for example found a pathologist to provide them with more cancer samples for their screenings. According to Tang, also his colleagues at FIMM have been very supportive.
"My colleagues have been following us and the accelerator process from the very beginning. We have also had help in finding potential collaborators. So I would say it is not only about the ten people in our team that are working for our solution. It is the whole community. "
In autumn the finalist teams of are travelling to Brussels. They will participate in a bootcamp that centers on research funding and global impact.
"We are really looking forward to the Global Impact Camp in September. It will be a totally new level for us and an opportunity to improve our solution even more."
Read iCombine's previous story here.
Team members:
Jing Tang, team leader, Institute for Molecular Medicine Finland (FIMM), University of Helsinki, University of Turku
Samu Kurki, senior researcher, Auria Biobank, University of Turku and Turku University Hospital
Tero Aittokallio, professor, Institute for Molecular Medicine Finland (FIMM), University of Helsinki, University of Turku
Emma Andersson, post-doctoral researcher, Hematology Research Unit Helsinki, University of Helsinki and Helsinki University Central Hospital
Evgeny Kulesskiy, post-doctoral researcher, Institute for Molecular Medicine Finland (FIMM), University of Helsinki
Ashwini Kumar, PhD student, Institute for Molecular Medicine Finland (FIMM), University of Helsinki
Dimitrios Tsallos, PhD student, Institute for Molecular Medicine Finland (FIMM), University of Helsinki
Muntasir Mamun, PhD student, Institute for Molecular Medicine Finland (FIMM), University of Helsinki
Olli Dufva, PhD student, Hematology Research Unit Helsinki, University of Helsinki and Helsinki University Central Hospital
Mikko Keränen, post-doctoral researcher and fellow in clinical hematology/Hematology Research Unit Helsinki, University of Helsinki, Comprehensive Cancer Center and Helsinki University Central Hospital