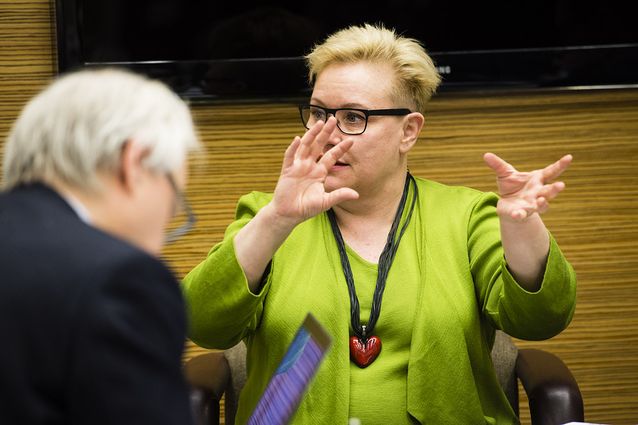 What happens when you drop a politician in a room full of scientists trying to make the world a better place? Good things, apparently. MEP and Helsinki Challenge mentor Sirpa Pietikäinen found the atmosphere at the Helsinki Challenge Impact Camp inspiring, exciting and open to new viewpoints – exactly the kind of energy that produces new ideas.
"The camp was one of those great, all too rare high points in a politician's career. Everyday politics often means dealing with just the problems at hand. We need time to think about new ideas, projects and opportunities, too", says Pietikäinen.
To Pietikäinen, the biggest strength in Helsinki Challenge is that the teams' ideas tackle real problems and needs in society. She hopes that the best projects will get funding in the future. "They fit the definition of innovation perfectly."
Before joining the European Parliament, Pietikäinen was a Finnish cabinet minister and MP. Based on her experiences, she sees a problem in the current way of doing politics.
"Every now and then, politics suffers from a so-called Copernican problem. We have a tendency to trust existing knowledge and its authors over new information and innovations. New paradigms and knowledge that shake up our thinking aren't easily transmitted into politics." A good example of this are questions about energy and digitalisation, which do not fit well into our current policy models.
From a researcher's lab to the desk of a politician
Pietikäinen craves new ways of spreading knowledge, such as online science portals and for Universities and Science Networks to take a more active role. At the same time she is happy about her existing contacts with academia.
"When new information and reports are published, it's great to receive an email and a link to the report. However, my best contacts are from the times I've had the opportunity to talk to researchers face to face."
Politicians and scholars should be brought together more often, Pietikäinen says. Just as Helsinki Challenge has done.
"I would love to see a science policy fair, with both researchers and politicians attending. There could even be some sort of speed dating. It would also be an opportunity for politicians to give researchers new ideas and ask questions."