Consultant and last year's Helsinki Challenge mentor, Ferdi van Heerden, believes that the best results are born through cooperation. One part of van Heerden's work is to translate "design thinking" into an operational model for innovation teams. Here are three reasons why he thinks researchers should join Helsinki Challenge.
1. Learn about the potential impacts of your study
Van Heerden sees Helsinki Challenge as an opportunity for researchers to learn about how their work affects society. Van Heerden has over 20 years of experience in international marketing and design. Today, he is a consultant in managing, strategy and design for actors in various different fields.
"The Helsinki Challenge competition encourages academics to recognize and verbally communicate the societal impact of their research," Van Heerden says.
The societal benefit of some research can be immediately evident. In other cases, it might take a while before the benefits become apparent. With the help of Helsinki Challenge, teams can learn how to tell about their challenge and solution to different audiences. Pitch events offer researchers a concrete opportunity to verbalize the impact of their research.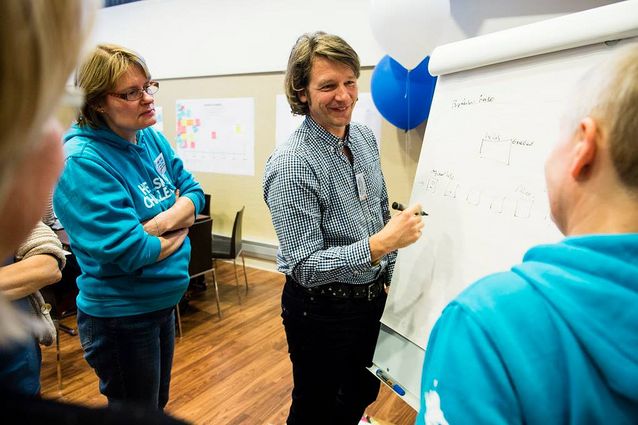 2. Understand different perspectives
Solving some of the biggest challenges in the world requires out-of-the-box thinking and the bold crossing of boundaries. Having multidisciplinary team members ensures a wider perspective. During the Helsinki Challenge journey, teams are also surrounded by subject matter experts, team coaches, mentors and project managers offering their expertise.
"Mentors and advisors are able to suggest different and analogous approaches. The surrounding community also acts as a sounding board for the team's ideas and solutions."
Mentors and other supporters give direct project reviews, introduce teams to potential investors or partners and model alternative outcomes. The competition is all about collaboration and co-creation.
3. Receive unique recognition and feedback
Participating in Helsinki Challenge as a mentor gave Van Heerden an opportunity to work with top scientists in Finland. He was especially interested in learning about new insights in digital technology and society.
"Mentors gain inspiration from seeing how the cutting edge of science is developing."
The accelerator programme's goal is to put science into practice. Along the way, teams and their solutions are reviewed by Finnish and international experts. Van Heerden believes that the competition provides a rare chance for researchers to present their work to such a wide audience.
Helsinki Challenge call for applications is now open and it is the time to put your team together, since registration for the competition closes on 31 October. The final competition proposal must be submitted by 15 November.