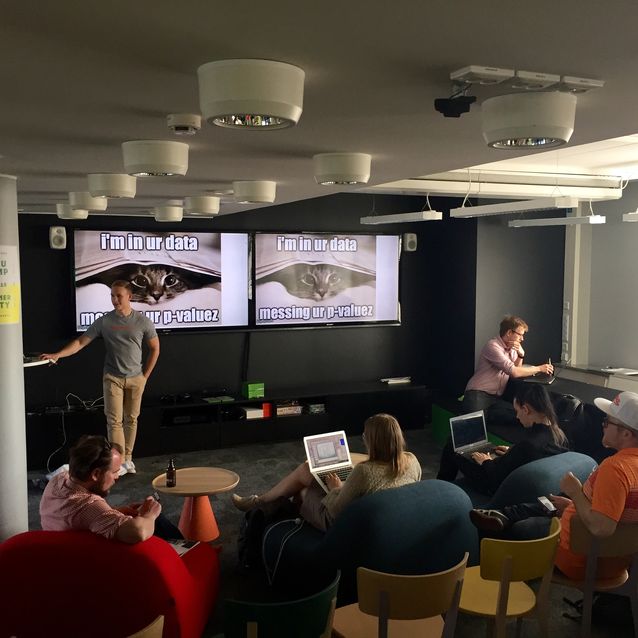 You can already smell the pizza down in the lobby. Eight floors up, the Futurice offices open into a bright and airy space with views over the city. Sure, there are plenty of classic tech startup accessories around, such as a professional espresso bar and a pool table - and then there's the pizza. A long communal table is stacked with steaming boxes of pepperoni and vegetarian pies. Because it wouldn't really be a proper hackathon without pizza.
Citizen Mindscapes team member Minna Rückenstein is pretty ecstatic. It's day two of a hackathon the Helsinki Challenge semifinalist team has organized with Finnish software agency Futurice, and around the space, several groups of people are hunched over laptops, tinkering and experimenting with the data Rückenstein and her team have opened up for research. These Futurice employees, students and scientists have all decided to spend their Friday night and sunny Saturday helping out Rückenstein's team.
"It's such a luxury. Just now I suggested that one team take a look at anything in the data related to jealousy, and they ran with it. Things we've been talking about for a long time are actually coming to life."
Rückenstein's colleague, team leader Krista Lagus shares the excitement. This isn't her first hackathon, but it's still an all-too-rare way of working in social sciences, she says.
"The intensity level is great. Usually you just meet every couple of weeks to discuss things, but in a hackathon you get to give instant feedback and comment on interim results. It's incredibly fruitful and motivating."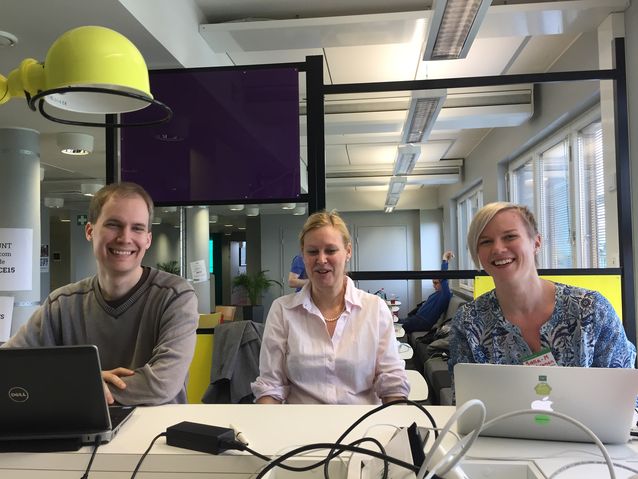 Bringing a company closer to the science community
Citizen Mindscapes is working on ways to analyze and use data from the vast vaults and endless threads of posts on the Suomi24 discussion forum. With millions of daily users, Suomi24 is Finland's most popular online space for talk on just about any topic, ranging from product reviews to local gossip, politics, news or sex. Lagus and Rückenstein's team aims to dig up insights on what's bugging or motivating Finns - and wants to create scalable tools for predicting rising social and consumer trends while they're at it. They recently received a substantial grant from the Technology Industries of Finland Centennial Foundation as well as funding from the Kone Foundation.
None of it would be possible without strong partnerships - and luckily that's what Citizen Mindscapes has been particularly good at. Media giant Aller, the company behind Suomi24, has been strongly involved from the beginning. Futurice is a more recent partner. One of the company's principles is to foster an environment of constant learning and personal development, which means providing employees with opportunities to spend time on creative side projects such as this, says Lauri Eloranta, a Senior Business Consultant and Data Scientist at Futurice. Eloranta is the main link between the company and Citizen Mindscapes, since he's also a grad student at the University of Helsinki.
"We want to be closer to the science community, so this kind of an event seemed like a good idea."
Soon it's time to gather at the Futurice center court to take a look at demos created in the past two days. Groups have explored rhythms in the data as well as words that shut down or encourage further conversation. But the biggest crowd pleaser is researcher Matti Nelimarkka, who's taken time to demonstrate the dangers of bad data analysis by choosing a result first, and then bending the data to support any desired conlusion. In this case, he's built a solid case on why cat people are better than dog people.
Scientists, students and coders all burst into giggles. The results are proven. Pizza and laughs can definitely help further science.