Team Climate Whirl has been learning to focus on the end-user while creating their new climate app. Team is building a future's platform for sharing information on climate change.
"For the first time we have had to think about the "customer" while creating these new tools in understanding climate change", says team leader Eija Juurola. This is a new way of thinking for ecologists and researchers, she adds.
Helsinki Challenge has also brought more food for thought.
"It was especially rewarding to meet international mentors at the Impact Camp. They helped us scope the true impact of our solution to people and to define our goals."
Is there anything that has surprised the cross-disciplinary team of researchers, artists and third sector and business actors?
"The intensivity of the process surprised us!"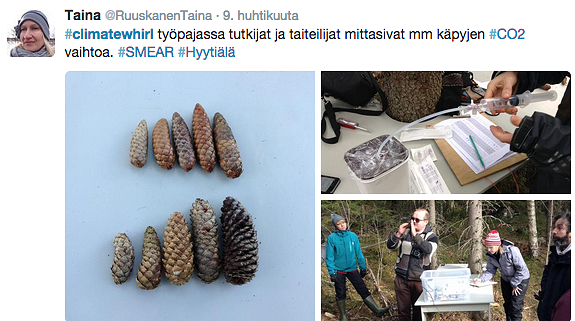 Remember their competition idea? Climate change and air pollution are one of mankind's greatest challenges. The scope of their effects on the planet are usually hard to understand. Team Climate Whirl is building a platform that gives a comprehensive picture of scientific research and a discussion forum for different actors in society. The aim is to help the public and policy makers to understand the scientific principles of climate change and air pollution and how to apply this information in their everyday life. The team is searching for new ideas and a broad public by working together with artists and game designers.
Come hear Climate Whirl pitch their competition idea on stage at PitchNight on Thursday, September 3rd. The announcement of the winner of Helsinki Challenge (and 375000€) is announced on Friday, November 13th. 
TEAM: Team leader Eija Juurola (Dr, UH, Department of Physics, Division of Atmospheric Sciences), Jaana Bäck (Professor, UH, Department of Forest Sciences), Hannele Cantell, (Dr, UH, Department of Teachers Education), Ding Aijun, (Professor, University of Nanjing), Terike Haapoja, artist, Janne Korhonen, (MSc, UH, Department of Forest Sciences), Markku Kulmala, (Professor, Department of Physics, Division of Atmospheric Sciences), Ari Nissinen, (Dr, SYKE, Center for Environmental Efficiency), Juha Pekkanen (Professor, UH, Hjelt Institute), Jussi Rasinmäki (Dr., CEO, Simosol Oy), Ulla Taipale, curator, Timo Vesala (Professor, UH, Department of Physics, Division of Atmospheric Sciences).