Have you heard that open-plan offices are out? New forms of information-intensive and remote work have stepped onto the scene, bringing along more complex demands regarding our work spaces. Team Engaging Working Environments is creating new physical, social and virtual spaces that support these new demands on our work spaces. The team looks at workspaces from a pedagogical and service architecture point of view: how to create spaces that support collaboration, efficiency and wellbeing?
The team is already creating long-term plans. They have faced lots of interest towards their competition idea and team members have spun webs of collaboration in many directions.
"Our project has stirred interest. We intend to examine the effects and possibilities of our project's future. We have, for example, planned to implement workplace supporting software development to our solution", team leader Kirsti Lonka says.
The team's work is being supported by the book "Oivaltava oppiminen" Lonka finished writing during the summer. Exciting things are happening internationally too. The team is attending a conference in Cyprus and travelling to Africa to look for a suitable country to build their first pilot school.
"Although my summer vacation was a bit short due to writing the book, it is always nice to come back to work and meet new excited students. There's always a good atmosphere and some good rumble going on", Lonka adds smilingly.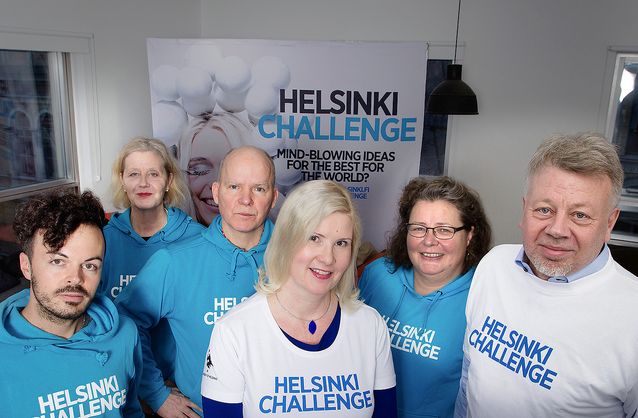 Come hear Engaging Working Environments pitch their competition idea on stage at PitchNight on Thursday, September 3rd. The announcement of the winner of Helsinki Challenge (and 375000€) is announced on Friday, November 13th.
TEAM: Team leader Kirsti Lonka (professor, UH, Department of Teacher Education), Kai Hakkarainen (professor, UH), Leena Krokfors (professor,UH), Suvi Nenonen (adjunct professor, research manager, Aalto University), Katariina Salmela-Aro (professor, UH), Jarmo Suominen (professor, Aalto University), Niclas Sandström (PhD Candidate, UH), Lauri Vaara (PhD Student, UH).