When a Finn organizes, they put up an association. Social movements of today have more complex requirements: civic actors don't need the rigid characteristics of an association, but a Facebook page isn't quite enough. Team Future Organization is, as it's name implies, creating a new organizational model for civic movements of the future where action is important, not the constancy of the organization or identity of its members.
The team has been working on their final competition proposal for PitchNight on September 3rd. They spent a week in London during the summer at an international conference where they had fruitful encounters with possible funders and other researchers.
"We got a good picture of the international level of discussion concerning our competition idea", says team leader Veikko Eranti. Issues concerning organizing and civic movements are being tackled globally but all problems haven't been solved yet.
"It gave us reinforcement to notice that our work has it's own place in solving these problems."
The team is getting ready for PitchNight and preparing their mobile application and technical tools. The team has been able to experiment with their working methods through the project.
"Challenge has been a good process because it has enabled us to single out the most significant ideas from a large number of ideas", Eranti points out.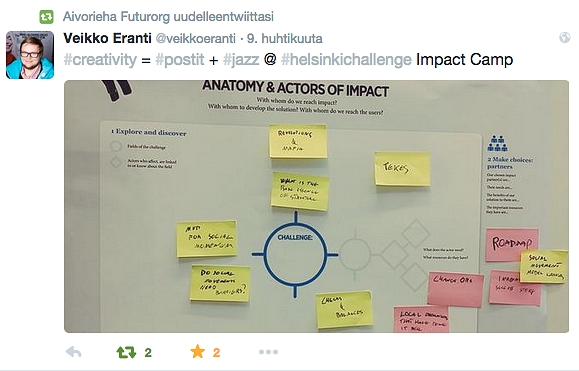 Come hear Future Organization pitch their competition idea on stage at PitchNight on Thursday, September 3rd. The announcement of the winner of Helsinki Challenge (and 375000€) is announced on Friday, November 13th.

TEAM: Team leader Veikko Eranti (researcher, UH Sociology, Founding partner at Aivorieha), Jussi Nuortimo (student, UH dpt. of Social sciences, Founding partner at Aivorieha) Saara Hyrkkö, (student, Aalto bioinformatics, Helsinki City Board member), Pasi Tuominen (entrepreneur, student, UH, CS), Noora Laak (student, Aalto ARTS architecture), Pekka Tolvanen (student, UH Philosophy), Ville-Veikko Mastomäki (communications planner, student, UTU Future Studies).