Helsinki Sleep Factory's team leader Anu-Katriina Pesonen is a good sleeper herself as a result of a learning process.
Her team is helping adolescents sleep better too. Their competition idea is to create a motivating, empowering and personalized virtual sleep program for adolescents to learn and enhance their sleep-awake-rhythm. The aim is to motivate adolescents to be in control of their own sleep and be aware of their circadian rhythm, meaning the physical, mental and behavioral changes that follow a roughly 24-hour cycle, responding to light and darkness.
They are working at good pace after the summer, currently finalizing the details of their competition entry. They are working together with users and designers to take full advantage of gamification. They recently organized a successful breakfast event at Think Corner where they met collaborators from industry, health care and education. They also got the City of Helsinki's Youth and adult education division as an important partner, with a joint aim to help students in the upper secondary education to regulate their sleep rhythm.
"Honestly, I didn't expect Helsinki Challenge to be this rewarding. We have gained unexpected new networks with wide societal coverage and synergy that we wouldn't have created through traditional research alone", she says.
Pesonen says that the team has learned about working and interacting in the area between research and society. It has been a whole different kind of process with actors from different fields.
"Most of all, it has been surprising, fun and educational."
The best thing about Helsinki Sleep Factory's Helsinki Challenge journey has been to see their competition idea develop from an idea level into something real. The team's spirits are high for the upcoming autumn.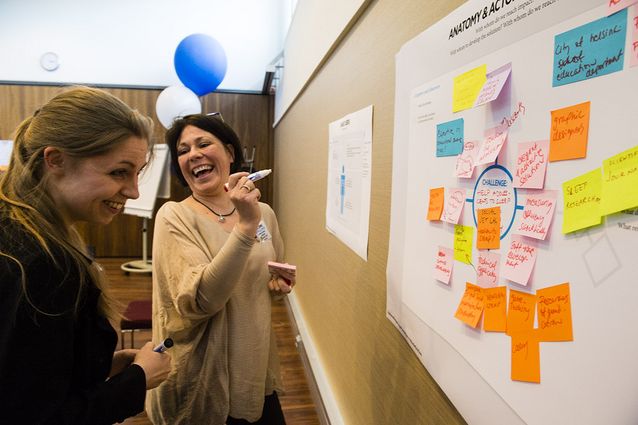 Come hear Helsinki Sleep Factory pitch their competition idea on stage at PitchNight on Thursday, September 3rd. The announcement of the winner of Helsinki Challenge (and 375000€) is announced on Friday, November 13th.
TEAM: Team leader Docent Anu-Katriina Pesonen (Acting professor at the University of Helsinki, Institute of Behavioural Sciences, Timo Partonen (Professor, National Institute for Health and Welfare THL), Liisa Kuula-Paavola (PhD student, Institute of Behavioural Sciences), Anna Sofia Urrila (Clinical Research Fellow, Academy of Finland) and Joel Sammallahti (game designer and student, Institute of Behavioural Sciences).