Helsinki Challenge semifinalist team leader Katalin Miklóssy was teaching in Georgia last year with colleagues from Belarus. They told Miklóssy they would only participate in the project as long as there would be no mention of democracy or human rights. Disappointed and confused, she had an idea: We need new methods on how to teach difficult topics in challenging environments, and how to promote critical thinking on a global scale.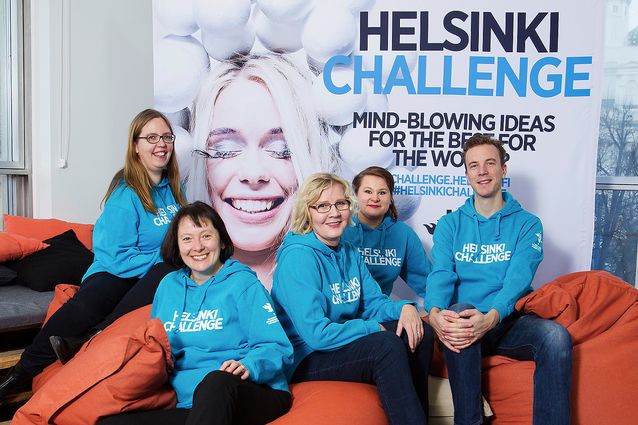 The team Higher Education Unbounded argues that our teaching and thinking may be restricted by institutions, ideologies, norms, taboos, simple fear — or limits of what we know. Current teaching methods are designed to stay in the comfort zone. Consequently, the team took up the challenge to go beyond the teachable and find ways to teach the unteachable.
"It's important to establish dialogue and not only parallel narratives. We have to build bridges over troubled waters. We live in a global world and we have to be aware of being global actors - it is after all in Finland's best interests to have a well-functioning and democratic world around us", says Miklóssy.
The team invented a new approach to teaching and learning called WeQ Pedagogy. This is based on the idea that instead of IQ or the individual we should be concentrating on in education but WeQ, creating a collaborative learning culture, embracing constant dialogue and flexibility to different perspectives.
The uniqueness in this solution is that it is an interdisciplinary combination drawing on and developing further existing pedagogical and social scientific knowledge. It acknowledges that teaching and learning are inevitably context sensitive and pedagogy is always political in character. Books exams and lectures are not enough. WeQ Pedagogy emphasizes that knowledge in our world is multiplying and should involve information around us, outside of academia and be collectively and horizontally produced.
"Since this approach has the power to induce creativity and bring up innovative and active citizens who are able to understand differences and come to terms with them – this can make WeQ Pedagogy an excellent export product of Finnish expertise", Miklòssy claims.
Exporting critical thinking
The team includes experts from the business world, civic sector, and academia. Not only does the team want to promote critical thinking and democracy globally, they also want to create new innovative methods of teaching these complex issues for humanists and social scientists specifically. Until now, pedagogical methods have been developed primarily by education specialists and cognitive psychologists, without reflection of the special needs of social science. The team also plans on packaging their new methods for the higher education market as an export product to spread Finnish educational expertise around the world.    
"Current methods do not take into consideration how politicized the topics we teach are. Our aim is to learn to better understand other political systems and their societies, and how to come to terms with them", adds Miklóssy.
Want to help this team? Become a Helsinki Challenge partner here.
TEAM: Team leader Docent Katalin Miklóssy (senior researcher, Dr., founding Member of the Teachers Academy, Aleksanteri Institute, UH), Suvi Kansikas (Dr., Network of European Studies, UH), Emilia Palonen (Dr., Dpt. of Political and Economic Studies, UH), Anne Nevgi (Docent, Centre for Research and Development in Higher Education, UH), Chris Holtslag (MA, CH Industries), Jarmo Koponen (MA, Vikes ry), Minna Hakkarainen (Dr., Aleksanteri Institute), Erika Löfström (Docent, Centre for Research and Development in Higher Education, UH).