Team Citizen Mindscapes has noticed that their competition idea requires a social and outward attitude. A highlight of their journey so far is a hackathon event they organized at Finnish software agency Futurice this spring. A big group of practical doers met to experiment with the big data the team opened up for research use. The team noticed that their job is not only to make it technically possible to use the data in Suomi24 portal, but also to engage and build a cross-disciplinary community.
"Our project is extremely communal, so engaging people to join our project is important. Helsinki Challenge has given us a chance to gather a diverse group of people to join in", says team leader Krista Lagus. "Many new ideas and concrete openings for action are born when we have met people and talked to different actors.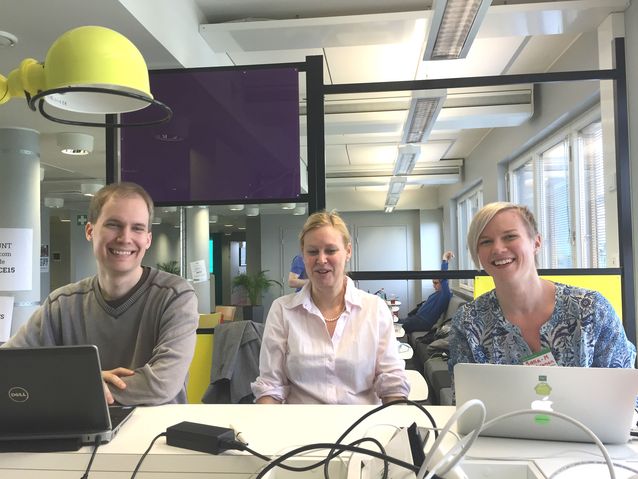 Do you still remember Citizen Mindscapes' competition idea? Citizen Mindscapes is a team of media professionals and researchers who have opened the Finnish, hugely popular Suomi24 discussion forum into research use. They give researchers, decision makers and business professionals a chance to take a fieldtrip into the nation's collective consciousness. Do you dare? You should, because the next major political movement might be lingering there. They provide tools for different actors to make use of this immense amount of data. In addition to analyzing the topics and themes of discussions, it is also possible to recognize trends and shifts in attitudes in connection to societal phenomena, for example the political climate.
Come hear Citizen Mindscapes pitch their competition idea on stage at PitchNight on Thursday, September 3rd. The announcement of the winner of Helsinki Challenge (and 375000€) is announced on Friday, November 13th.
TEAM: Team leader Krista Lagus (PhD, senior researcher, NCRC/Kuluttajatutkimuskeskus), Mika Pantzar (research professor, NCRC), Göte Nyman (Professor emeritus, NCRC), Jussi Pakkasvirta (professor, Faculty of Social Sciences, UH), Pauli Aalto-Setälä (CEO, Aller), Timo Honkela (professor, UH), Reijo Sund (docent, Faculty of Social Sciences, UH), Minna Ruckenstein (senior researcher, NCRC).