Team Lab Impact Africa put up a social startup to take their competition idea to the world. They noticed that Finnish expertise in microbiology and laboratories can become an export product.
Team leader Christina Lyra, how is your team doing after the summer?
"Excellent, there's a lot of good buzz at the moment. We put up a social start-up for Lab Impact Africa and are now continuing developing its business plan and our product, modular lab packages. Our team meets several times a week and discusses our start-up. We decided to aim high and put up this organization form to take our competition idea to the next level. We see that it brings a needed export product to Finland and as such helps with the current economic situation."
Did you believe you would be here now when you started the Helsinki Challenge journey?
"Not this far. When we started Helsinki Challenge, we envisioned doing single consultancy gigs through our cooperative society Co-op Bionautit, but never putting up a startup. Helsinki Challenge has helped us understand that it is possible."
The team has gotten important help from business professionals. The team is happy that they have gotten tools to do this, motivating exercises, a forward-pushing schedule and inspiring help and sparring from mentors.
"Now our team has a clear and shared vision of what we are doing. Helsinki Challenge gives us a great opportunity to be noticed. We've received interest from Cameroon for example, and our first client and partner in Burkina Faso is active in telling of their experiences with our lab packages."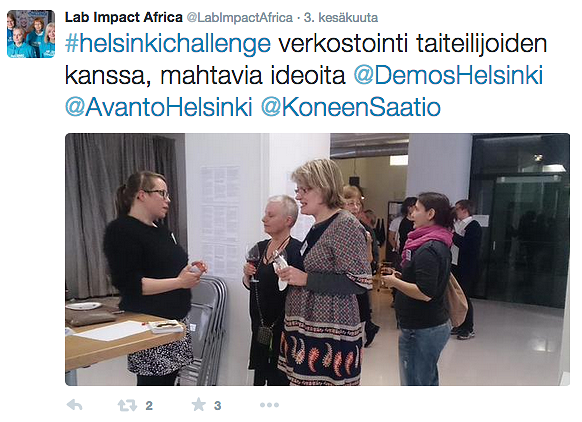 Remember Lab Impact Africa's competition idea? The idea of four researchers is to harness their academic knowledge and expertise in microbiology to improve laboratories in Africa and spread knowledge to places that need it the most. The team is working on modular laboratory packages that are marketed first to Africa, and later to other developing countries. The lab packages identify and prevent world-wide epidemics and produce knowledge on local food and water quality.
Come hear Lab Impact Africa pitch their competition idea on stage at PitchNight on Thursday, September 3rd. The announcement of the winner of Helsinki Challenge (and 375000€) is announced on Friday, November 13th.

TEAM: Team leader, PhD Christina Lyra (Department of Food and Environmental Sciences, UH), PhD Kaisa Haukka (Department of Food and Environmental Sciences, UH, and Co-op Bionautit), PhD Leena Räsänen (Co-op Bionautit), PhD Edina Rudner (Co-op Bionautit). Contact in Burkina Faso is PhD Isidore Bonkoungou.