Team Moralities of Intelligent Machines has prepared for the autumn by doing academic groundwork. The team's atmosphere is busy but excitedly anticipatory.
"We have followed the media actively and read up on science policy and moral psychology while lying on the beach this summer. The summer break was well needed and our batteries have now been charged. We have new energy to charge off with the competition again!", team leader Michael Laakasuo says.
The team has attracted media attention and given lots of interviews throughout the competition.
"Helsinki Challenge has been a great opportunity for us. Performing on stage and appearing in the media are new things for me. This amount of media interest towards our competition idea has been a positive surprise", Laakasuo says.
The team is also attending Robotics Week in Helsinki with a pop-up laboratory later on this year. Laakasuo has even been asked to guide a few theses on the topic of robot psychology.
Remember their competition idea? The team plans to use qualitative methods to investigate what people think about fatal mistakes done by robots. Most of us have an elementary intelligent machine in our pockets. Smartphones make decisions for us all the time, choosing routes and giving directions, for instance. Laakasuo and his team think that humanity needs to be prepared for moral questions that might arise when something goes wrong. It is possible that humans will deal with robots the same way they deal with babies or animals, or it could be that robots provoke previously unencountered moral reactions. In the long run, the team is hoping to create a whole new field of inquiry that concentrates on moral psychology of robotics, which could help whole industries working with new decision making robots.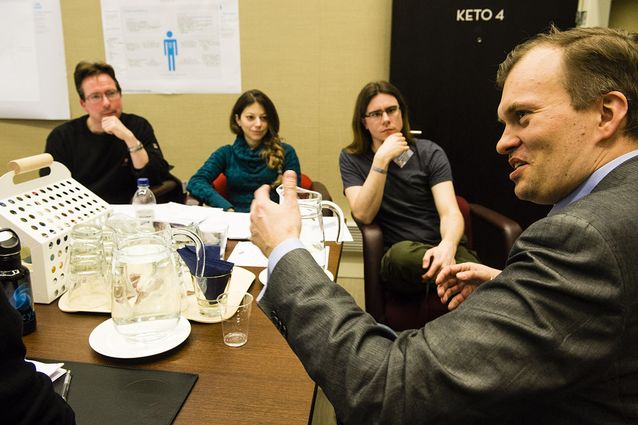 Come hear Moralities of Intelligent Machines pitch their competition idea on stage at PitchNight on Thursday, September 3rd. The announcement of the winner of Helsinki Challenge (and 375000€) is announced on Friday, November 13th.

TEAM: Team leader Michael Laakasuo (researcher, UH, Mikko Salmela (adjunct professor, UH, Dep. of Politics and Economy, Practical Philosophy), Jussi Palomäki, post-doc (Newcastle University School of Computing), Marianna Drosinou (PhD student, UH, IBS), Nils Köbis (PhD student, VU University of Amsterdam, Department of Social And Organisational Psychology), Markus Jokela (ass. professor, UH, IBS).