Child patients spend long stretches of time going from one hospital to another, sometimes returning back home and to school, so they face many challenges related to their learning and wellbeing. Life between places is hectic and puts an unnecessary strain on a child's life. How could we help the child patients feel empowered and connected? How do we increase their sense of belonging to their communities? How can they be active in their own life and learning?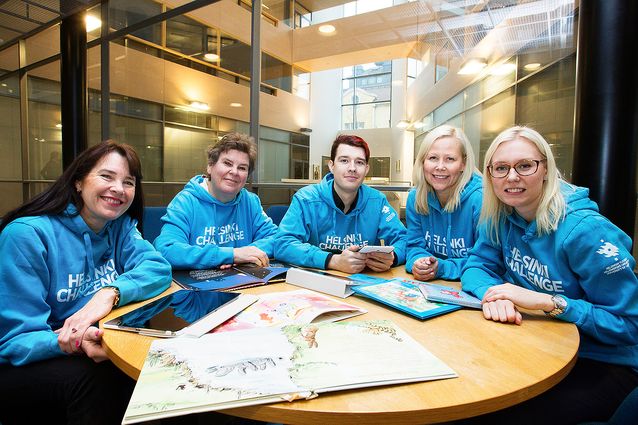 Hospitals and learning at hospitals are made up of a lot of disintegrated systems and services. It can all seem confusing to children and their parents, and can create a huge mental gap between a child with a long term illness and their friends, school and peers.
"Hospitals and hospital learning should be interconnected to the child's development and wellbeing, including a sense of trust and community. The child must be seen as an active agent, not as a passive patient", says Helsinki Challenge semifinalist team leader Kristiina Kumpulainen.
New learning is engaging, transformative and digital
A team of specialists from various fields will resolve how to co-create a world-class Finnish children's hospital for connected learning and wellbeing.
The team will develop a comprehensive concept to improve children's hospital services which can be adopted on a national as well as an international scale. Learning and wellbeing need to be socially embedded, child-driven, and oriented toward educational opportunity. It addresses the gap between in-hospital and out-of-hospital learning and underscores the importance of co-configured education and healthcare services. It also links hospital, home, school, community and peer contexts of learning. The project will result in new technological solutions, playful learning environments, pedagogical methods for teacher training, as well as methods for service co-design. Over 20 actors from Finland and abroad are involved with the project.
"When a child feels more involved, connected, valued and trusted, there can be a huge positive impact. It could even be visible in their overall health as a reduced need of painkillers and better stress control", Kumpulainen says.
Want to help this team? Become a Helsinki Challenge partner here.
TEAM: Team leader Kristiina Kumpulainen (professor, UH), Lotta Uusitalo-Malmivaara (lecturer, UH), Heidi Sairanen (doctoral student, UH), Riitta Smeds (professor, Aalto University SimLab), Otso Hannula (doctoral student, Aalto University SimLab), Jussi Mertsola (professor, TYKS/New Children's Hospital project), Jari Petäjä (Pediatrician, HUS), Sanna-Maria Kivivuori (Chief Administrative Medical Officer, HUS), Pekka Lahdenne (Senior project manager, New Children's Hospital project, HUS), Marjo Kyllönen (City of Helsinki), Marja-Liisa Autio (Principal, Sophie Mannerheim hospital school) and teachers Nina Myllylä, Anna-Kaisa Lindquist, Jarmo Lehtonen (Sophie Mannerheim hospital school) and Harri Mantila (Masku Kurittula primary school).