There are several mobile applications already around for calculating ones carbon footprint. However, they are often a lot of work to use, and require information on energy consumption, water use, and so on. Users have to gather this information from several sources and fill it out themselves. Most of the apps lack a social element, and even more importantly, none of the existing calculators provide clear feedback on the sustainability of ones consumption choices.
"In a time where everyone tracks their excercise and runs on mobile apps and loves personalized feedback, why wouldn't we want to track our consumption, too?" asks Helsinki Challenge semifinalist team leader Kaisa Korhonen-Kurki from HENVI, the Helsinki University Centre for Environment.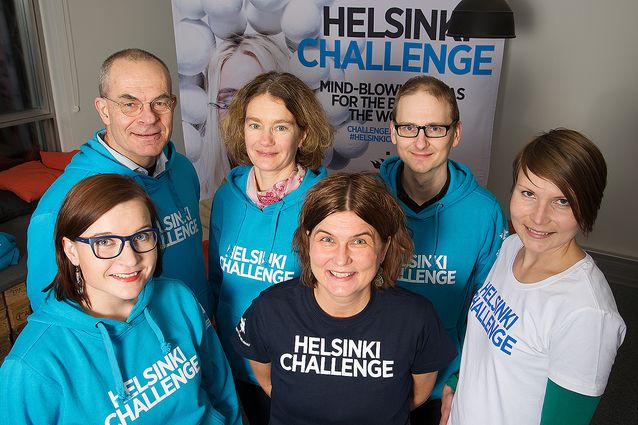 The team is working on a consumers' sustainability signal system, which will most likely take the form of a mobile app. Applications for calculating emissions from mobility already exist, as well as systems for monitoring energy use. The biggest grocery stores collect data from their customers that could be combined with the existing carbon footprint data of food products. Using these existing data registries of consumption as a personal database makes the app easy to use.
Co-operation with energy companies
The team plans to start with tracking energy use, and adding other areas of consumption later. At the first stage the app will be directly connected to the user's energy company, where energy use metrics will be transferred to the application. The application will show a time series of energy consumption, the total amount of energy consumed and saved, emissions in kilos of carbon as well as the money you save. Most importantly, you can track your own energy use and compare it to the average Finn's consumption, as well as average consumption worldwide.
Eventually, an easy-to-use and highly personalized app could lead to less consumption and more sustainable use of carbon and other natural resources, Korhonen-Kurki says.
"Everyone would want to share their achievements on social media. Peer pressure and social acceptance are the biggest drivers of behavioural change."
Follow the team's progress in their blog: http://blogs.helsinki.fi/creatingsustainability/
Want to help this team? Become a Helsinki Challenge partner here.
TEAM: Team leader Kaisa Korhonen-Kurki (Research Coordinator, HENVI), Janna Pietikäinen (university lecturer, HENVI), Janne Hukkinen (Professor, Department of Social studies/environmental sciences), Senja Laakso (doctoral student, Department of Environmental Sciences, HU), Marja Salo (researcher, Finnish Environment Institute), Leo Stranius (Executive Director, The Finnish Nature League).