Team Sustainability Tracker has been refining their competition idea for the upcoming PitchNight in September. The team is developing methods to give people feedback on their energy consumption. Recently, the team put up a questionnaire through a mobile application of the university's alumni association and got valuable data for creating their method.
The team is working on a consumer's sustainability signal system, which can take the form of a mobile app for example. The most important aspect is how people receive feedback on their lifestyle and consumption choices, so that they become motivated in changing their energy-consuming habits. The idea is that if people get real-time feedback on their behavior, it is easier to change environmentally unfriendly habits into better ones.
"In a time where everyone tracks their exercise and runs on mobile apps and loves personalized feedback, why wouldn't we want to track our consumption, too", says team leader Kaisa Korhonen-Kurki.
So far, the team has engaged people and tested their ideas in many directions.
"It has been nice to see that our main partners, Helen and Elisa, have been actively with us in the competition."
It is meaningful how information on energy consumption is presented on an electric bill, for example. Finding relevant collaborators is important for the team. The team has also engaged a Master's thesis writer to study the forms of feedback in changing people's environmental behaviour.
What is the team's main challenge at the moment?
"We have lots of ideas, but only little or no resources", Korhonen-Kurki remarks.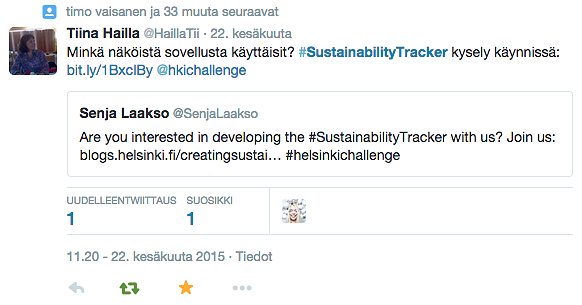 Come hear Sustainability Tracker pitch their competition idea on stage at PitchNight on Thursday, September 3rd. The announcement of the winner of Helsinki Challenge (and 375000€) is announced on Friday, November 13th.
TEAM: Team leader Kaisa Korhonen-Kurki (Research Coordinator, HENVI), Janna Pietikäinen (university lecturer, HENVI), Janne Hukkinen (Professor, Department of Social studies/environmental sciences), Senja Laakso (doctoral student, Department of Environmental Sciences, HU), Marja Salo (researcher, Finnish Environment Institute), Leo Stranius (Executive Director, The Finnish Nature League).