This team wants to make the analysis of water's metal concentrations faster and less expensive. A new method makes this possible, on-site and real-time, explains team leader Tuomo Nissinen.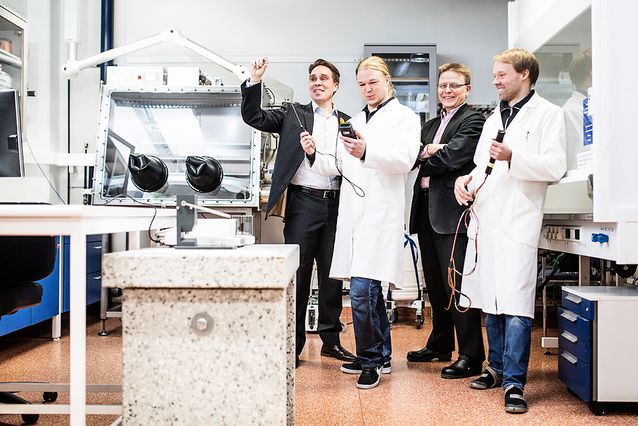 "The analysis of very low metal concentrations in natural waters requires expensive and slow laboratory techniques. Therefore real time data cannot be obtained from water samples, which is problematic in many applications. Fast and precise measurements are essential for example in monitoring industrial water emissions and the quality of water, processing water in the mining and metal industry and analysing groundwater in mineral exploration. We want to make the measurements of low metal concentrations quicker, cheaper and more precise. That's why we are developing a method that enables on-site analyses of water. The method is based on a nanostructured hybrid material which binds aqueous metal ions effectively even from very low concentrations. Currently low metal concentrations can be analyzed only in a laboratory and it takes from days to weeks until the results are available. With our method the measurements will be simpler and faster: the analyses of the samples can be done on-site and the results are ready in a mere 15 minutes.

We're developing a portable measurement device that can be connected to a cloud service for data collection and analysis. A concentration map of metals of an area is generated real time during the measurements even simultaneously from multiple sites. Thus metal concentrations can be mapped in large areas and the sources of metals can be identified quickly. This is enables fast detection of industrial spillage in nature as well as the exploration of drinking water and minerals. Our idea is unique and to our knowledge this type of system has not been used as an analytical tool before. We're very driven and can't wait to see how far we can take this solution."
1. Why can your team make the world a better and more sustainable place?
Water is the most important resource in the world and it is very important to know its quality wherever it is being used. Our method can improve human and environmental safety, industrial performance and exploration of minerals.
2. If you could collaborate with anyone in the world, who would it be?
It would be great to test our solution with a large global mining and emission monitoring companies and organizations. Charity organizations working with clean water for developing countries could utilize our technology to verify the water safety in areas of metal industry or naturally occurring toxic metals.
3. What's the best thing that has come out of science and research this far?
The scientific worldview. It has evolved little by little as time has elapsed and has molded our societies to their current civilized states.
Team members:
Tuomo Nissinen, team leader, PhD, University of Eastern Finland
Commercial team:
Matti Leppäniemi, PhD, Jyväskylä University School of Business and Economics
Janne Hepola, PhD student, Jyväskylä University School of Business and Economics
Scientific team:
Joakim Riikonen, PhD, University of Eastern Finland
Vesa-Pekka Lehto, Prof., University of Eastern Finland
Advisory members:
Anssi Lehikoinen, Prof. of Practice in innovation management, University of Eastern Finland
Juhani Ojala, Head of Mineral Resources Unit, Geological Survey of Finland
Mikko Juuti, Business development manager, University of Eastern Finland
Jouko Vepsäläinen, Prof., University of Eastern Finland