Team Dlearn.Helsinki wants to develop pedagogical tools and practices for schools that struggle with educating their students in a globalizing world. Today, there seems to be a gap between the curriculum and what interests students. Young generations need new global competencies, and this team aims to bring these competencies into practice in schools, says team leader Auli Toom.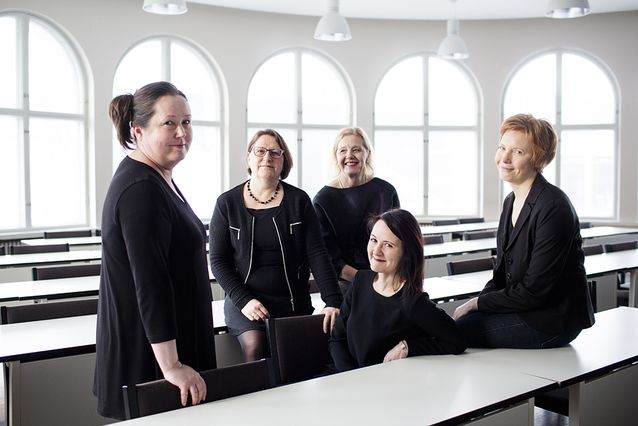 "Even though Finnish basic education is one of the world's best school systems, there seems to be a gap between the curriculum and what interests students. Studies show that only 20 percent of Finnish high school students experienced school engagement, whereas half of 12-year-olds had lost the meaning of school. It seems that young people get their most engaging learning experiences outside the school context.
We want to solve this problem. We have found that young generations require new global competencies. They need possibilities of engaging themselves rather than only listening to what the teachers teach. They want to be a part of change, together with their peers and teachers. They want to have a voice and choice in the topics discussed and the methods used in classrooms.
Our research-based pedagogical tools such as mobile application (ESMApp), and Collective Competence Wall (ComWall) help both students and teachers become interested in global competencies such as collaboration, social engagement, problem solving, resilience, emotion regulation and multicultural understanding. The idea of ESMApp is to let students evaluate how they have learned global competencies and what they think of the learning methods they use in class. The app collects data, which can then be used in classrooms through the competence wall. These are modern tools that both help students to learn and researchers to gather data.
Our multidisciplinary team has worked with this topic for more than 10 years, and it has become clear that the school system needs to change with the rest of the world. We are open-minded, curious and evidence-based. And we believe that our tools and models can be useful in schools all over the world."
1. Why can your team make the world a better and more sustainable place?
As we have recognized this challenge that resonates with other studies, we have been able to develop a hands-on practical solution. We believe that by increasing awareness of this issue, the world will follow.
2. If you could work with anyone in the world, who would it be?
Michelle Obama is a well-educated woman who has been able to improve the well-being of American school children, among others. She is also a brave and straightforward person.
3. What's the best thing that has come out of science and research so far?
The Finnish elementary school. It is the best place for progress, and it also represents the values and things we want to advance.
Read more about Dlearn.Helsinki here.
Team members:
Auli Toom, team leader, docent, Centre for University Teaching and Learning, University of Helsinki
Minna Lakkala, docent, Technology in Education Research Group, University of Helsinki
Mari Tervaniemi, research director, Cognitive Brain Research Unit, Cicero Learning, University of Helsinki
Katariina Salmela-Aro, professor, Department of Psychology, University of Jyväskylä, University of Helsinki
Veera Kallunki, PhD, Educational Technology Services, University of Helsinki
Tomi Männistö, professor, Department of Computer Science, University of Helsinki
Pasi Silander, digitalisation lead, Education Department, City of Helsinki
Veli-Matti Harjula, teacher, Kallahti Comprehensive School, tutor teacher, City of Helsinki
Niko Lindholm, program director, XEdu, Helsinki