EduRemix aims to facilitate the adoption of digitalization in teaching. The team wants to create an educational package to help teachers with this process. One part of the package is a software that combines all digital educational content into one desktop, explains team leader Marja-Leena Bilund.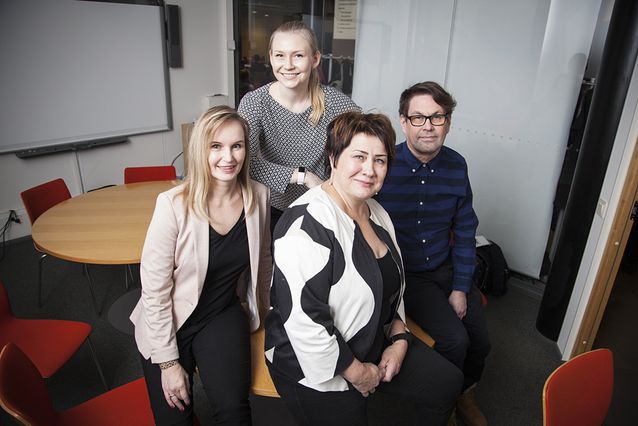 "Digitalization is quickly changing global education. Different digital devices are more and more present at schools, but they rarely truly inspire students to learn. Children and youth need to be active actors in the digital educational process. Teachers, on the other hand, need to learn how they can involve students in the learning process.
We have created a Collaborative Digital Teaching and Learning Framework to help teachers understand and put digital education into practice. We coach teachers in how to create digital content together with their students. We also study how teachers use digital tools in their work and how students experience this collaborative learning process.
We have teamed up with a startup company called Cuppla Technology. They have created a software that allows teachers to combine all digital educational content into one desktop. It is easy to search for and add information when everything can be found in one place. Our aim is to create a coaching package that is tailored to each school and teacher individually. We will coach teachers in digital content production together with their students – using Cuppla's software.
Children and young people know a lot about the world because information is within their reach easily, just a couple of clicks away. Teachers should train young people to use digital devices responsibly but not limit them too much. Teachers should encourage students to create their own research questions based on their intrinsic motivation. When a certain phenomenon is under observation at school, the students should have a chance to ponder it: 'what is it that interests me in this particular phenomenon? What do I want to learn about it?' If we lead students by the hand from preschool until the end of middle school, they will never get the chance to create something for themselves. We want to prove that learning can be an inspiring experience. Learning is an adventure."
1. Why can your team make the world a better and more sustainable place?
"Everyone has the right to experience the joy of learning and the realization that anyone can become anything they wish to. Learning is not dependant on any teacher. What becomes of me is in my hands."
2. If you could collaborate with anyone in the world, who would it be?
"The creator of Star Wars, George Lucas. He could build virtual realities and learning environments that would make learning a true adventure."
3. What's the best thing that has come out of science and research so far?
"All research leads us to new things and opens new doors. Novel information shows how limited our thinking is sometimes. The scientific world in itself is like an adventure that George Lucas created."
Team members:
Marja-Leena Bilund, team leader, CEO, EduRemix
Heikki Kynäslahti, docent, University of Helsinki
Elena Ruskovaara, director of entrepreneurship education, Lappeenranta University of Technology
Kirsi-Marja Janhunen, headmaster, Urpolan koulu
Susmita Basu, convenor, ICPPP 2017; head of quality assurance and innovations department, CMS
Linda Helistö, marketing manager, Cuppla Technology
Johanna Kartila-Malmivaara, CEO, Cuppla Technology
Jaana Seikkula-Leino, adjunct professor and project management, University of Turku