This team fights malaria infections with a simple yet efficient two-part solution: layered mosquito nets and a vaccine, which makes human blood toxic to mosquitoes, team leader Seppo Meri tells us.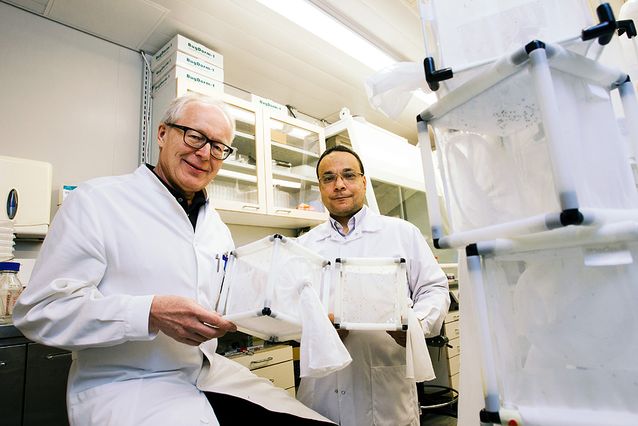 "Mosquito-mediated diseases such as malaria and the Zika virus collectively kill about one million people every year. Our goal is to create new methods for preventing diseases that mosquitoes transmit.
We have two approaches: creating new types of mosquito nets and a vaccine against mosquitoes. We design nets that allow the mosquitoes to fly in through one side but not back through the other. If you put two nets into windows, for example, mosquitoes would be trapped between them, thus unable to fly in or out of houses and infect people with viral or parasitic infections. That's where our name stems from: elimination of mosquito-mediated diseases, ELMO in short.
Human blood is usually toxic to non-human cells, but for some reason mosquitoes' gut cells can resist this toxic effect. That's why we'll also develop a vaccine for humans that will make their blood toxic to mosquitoes, so that they die after digesting a dose of human blood. We will isolate molecules from the midguts of mosquitoes and transform them into a vaccine. Once a person has been vaccinated, their blood will kill the mosquitoes before they can transmit any infections.
Mosquito-mediated diseases are primarily a problem for developing countries. We've already tested the mosquito nets in northern Tanzania and will conduct more tests in other parts of Africa. Setting up the nets requires a lot of work. You need to design the nets, construct them, make them appealing to use and have them inserted into windows. Therefore, this project will create jobs in third world countries in addition to potentially saving countless human lives.
Our diverse team includes professionals from different fields. We have researchers and experts from several Finnish universities, companies that help us develop materials and prototypes for the mosquito nets, an architect, and a house construction company who specialize in African conditions. Our solution means a lot of work for a lot of people, both in Finland and in the developing word."
1. Why can your team make the world a better and more sustainable place?
Because we want to save human lives. Diseases such as malaria bring not just sickness and death, but also a lot of fear. People are also afraid of the many viruses that transmit new diseases. They may even fear that there will be one last virus, which will wipe out everyone on the planet. We wish for people to not have to be afraid anymore.
2. If you could collaborate with anyone in the world, who would it be?
Madonna. If anyone has her contact info, please let us know. Let me keep the reason for this a secret, for now.
3. What's the best thing that has come out of science and research so far?
Thanks to vaccinations and antibiotics we have been able to prevent hundreds of millions of people from dying during the last century. For example, thanks to vaccinations, the world has managed to get rid of smallpox. The whole world benefits from having methods that can cost-efficiently prevent diseases.
Read more about ELMO here.
Team members:
Seppo Meri, team leader, professor, Medicum, University of Helsinki
Ayman Khattab, researcher, Medicum, University of Helsinki
Marta Barroso, PhD student, Medicum, University of Helsinki
Sara Lindeman, project manager, Aalto University
Markku Honkala, researcher, Tampere Technical University
Tomi Hakala, researcher, Tampere Technical University
Helena Boucht-Lindeman, CEO, Oy Lindeman Ab
Maria Lindeman, Oy Lindeman Ab
Helena Sandman, architect, Aalto University
Johanna Lampinen, CEO, Gidetec Oy
Sami Juola, CEO, Earth House
Mikko Kostamo, Työkalukostamo Oy
Mikko Aalto, MD, Bosaso Hospital, Somalia