As the global population grows and Asia becomes wealthier, there is a growing demand for cotton and other cellulose-based textiles. But they take a long time to produce – in fact the growth of cotton stagnated already in 2000 – so there is a need for new types of cellulose-based fiber, says team leader Herbert Sixta.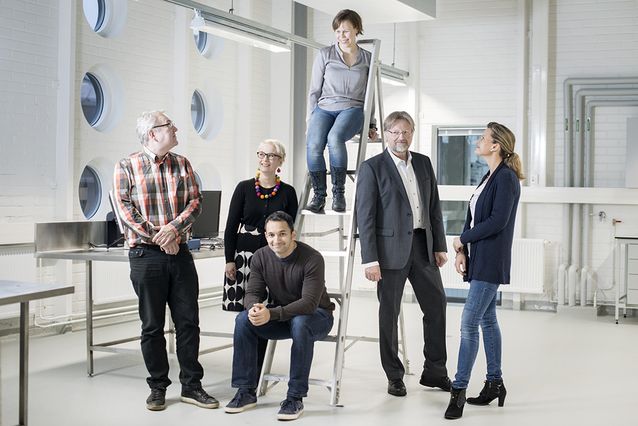 "Our team is developing a new type of cellulose fiber made out of Finnish wood, as we also want to support the Finnish wood-based industry and bring textile manufacturing back to Europe. The fiber we're working on is similar to Tencel but with a different solvent. You can make fabric out of the material, but also technical fibers, films, cellulose powders, hydrogels and use it for other applications of high value.
The project started in 2011–12. In 2014, we were already able to produce a textile that Marimekko used for a dress, which they showcased at their fashion show. We have developed the fiber process to a technical level, but we have just started to develop a technical concept for the recycling of the solvent. The new process enables the use of recycled cotton-based textiles or even wastepaper after some pretreatments. One of our students has already advanced the process for separating polyester and cotton from a typical polyester-cotton blend.
We have a nice consortium that includes a broad scientific network in Finland and abroad, as well as members of the textile and pulp industry such as, Marimekko and Stora Enso, for example. We joined Helsinki Challenge to receive funding for our next step. Academia also needs visibility and we saw this as a good way to get some."
1. Why can your team make the world a better and more sustainable place?
We try to make a small contribution by developing a green process and we're lucky to have this innovation that seems to garner support from the industry.
2. If you could collaborate with anyone in the world, who would it be?
We are already in loose contact with some very well-known textile companies, especially from the Nordic countries. We aim to further extend our efficient collaboration with different industrial companies and research institutes to reach the technological readiness necessary for commercialisation.
3. What's the best thing that has come out of science and research so far?
There are so many inventions that have supported mankind that it is impossible to highlight just one.
Team members:
Herbert Sixta, team leader, professor, Aalto University
Michael Hummel, staff scientist, Aalto University
Elsa Walger, postdoctoral researcher, Aalto University
Ilkka Kilpeläinen, professor, University of Helsinki
Alistair King, docent, University of Helsinki
Susanne Wiedmer, docent, university lecturer, University of Helsinki
Sirpa Välimaa, Technical Customer Service Manager, Stora Enso
Minna Kemell-Kutvonen, Marimekko
Sanna Hellstén, postdoctoral researcher, Aalto University