Team Parental Box wants to develop a mental health toolkit for young families. The idea is to provide easy access to resources that help both children and their parents cope with daily issues and problems. This toolkit is also a way for researchers to gather data about families' needs, says team leader Lotta Uusitalo-Malmivaara.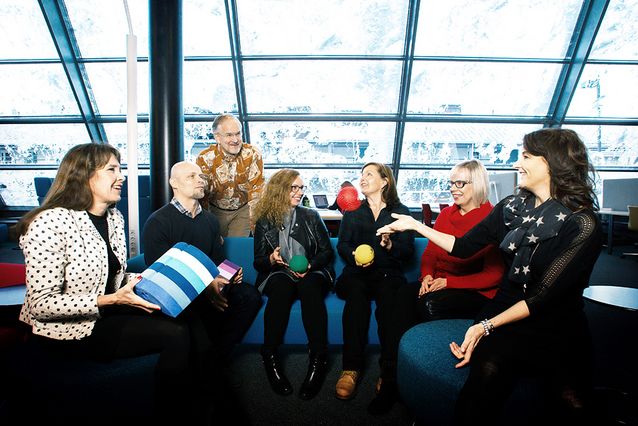 "Even though financial well-being has steadily grown, people are not feeling well, in fact quite the contrary. Studies show that loneliness, depression and anxiety have actually increased in families with young children. Partly, this is due to a larger structural change in our societies. Competitiveness, and a lack of the feeling of togetherness and compassion have increased. Young parents are left alone, and we want to change that.
Our idea is to create a parental box (PB), a so-called "mental maternity box" which helps developing a healthy mental state. The toolkit is based on practical, simply formulated information, for example on the development of a child's brain, social needs and temperamental differences. With the help of this 'box' families can learn how to cope with a child in changing circumstances.
The box works in two ways both as a practical tool for families and a data collection device for researchers, as the families are welcomed to answer questions on the PB-website. This is a very easy and cost-effective way to gather versatile, longitudinal data about the well-being of Finnish families. Families are informed about the parental box through child healthcare centers, for example. Moreover, the toolkit is also placed in the physical maternity box as a letter and advice cards, so that also those who do not have the energy to go to the website can get information and help. In the future the PB could also work as a mobile app.
We are relational, playful and participatory. Our team consists of multidisciplinary experts who have studied and worked with children, families and healthcare for years. Families are not well, and therefore our main goal is to provide access to help for every family and child in the world."
1. Why is your team making the world a better and more sustainable place?
Through Helsinki Challenge, our knowledge and know-how can be developed into a form that really serves the field. It is a two-way system for both families and researchers and for the whole society.
2. If you could work with anyone in the world, who would it be and why?
Through his status and personality, president Sauli Niinistö could be a great role model and a promoter for this endeavor, which embraces our whole society, most of all the future of younger generations.
3. What's the best thing that has come out of science and research so far?
Science has enabled us to create tools that allow us to research things that help humankind. Hence, science is not only something that helps us out of trouble. It is something that can increase our well-being.
Read more about Parental Box here.
Team members:
Lotta Uusitalo-Malmivaara, team leader, PhD, adjunct professor, university lecturer, University of Helsinki
Nina Sajaniemi, adjunct professor, head of early education, University of Helsinki
Marjo Hannukkala, director, Finnish Association for Mental Health
Risto Hotulainen, assistant professor, Director, Centre for Educational Assessment
Minna Huotilainen, docent, University of Helsinki and Uppsala
Arniika Kuusisto, docent, assistant professor, University of Helsinki and Warwick
Marja-Leena Laakso, professor, University of Jyväskylä
Jukka Mäkelä, MD, Institute for Health and Welfare
Hanna Sellergren, manager, Federation of Mother and Child Child Homes and Shelters
Kaisa Vuorinen, PhD student, University of Helsinki