Would you like to give feedback about your neighbourhood with just a few clicks? A team of designers and social science students plans to develop an interactive platform into which citizens, institutions and entrepreneurs can feed their ideas and experiences concerning their living environment. The idea is to make the voices of citizens visible and improve interaction between all parties involved in developing our living environment.
"City planners can gain important experience-based knowledge of a neighbourhood directly from its inhabitants, or a new business can get ideas on where to optimally set up their shop", explains Helsinki Challenge semifinalist team leader Maria Niemi.
The idea was born at a party, when a Tell-Us team member asked an architect about how he gets information about what people really need and want in their urban environment. She was appalled when the reply was that he didn't really use citizen feedback in his work.
"We want to create a whole new way of interaction which enables low-threshold engagement", exlaims Niemi. "We are creating a new way to produce valuable information for better urban planning."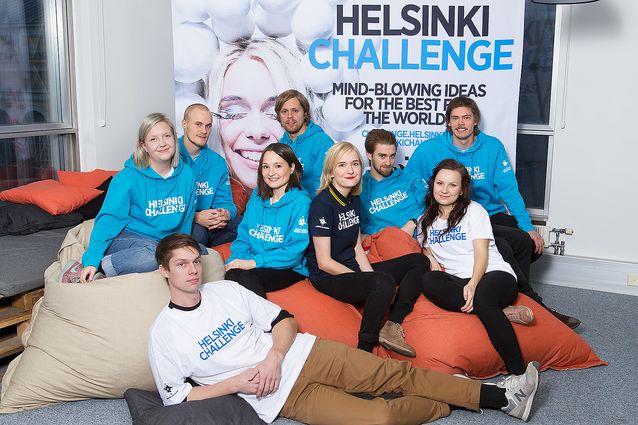 Beautiful information for everyone
Users will also have access to a treasure trove of city information and statistics themselves. The data gathered from citizens and the city administration will be categorised and visualised into an easily understandable and attractive form, so that anyone can use the database. Tell-Us will be a platform full of qualitative and humane information. It wants to be a platform that looks into the future: what kind of services is this neighbouhood lacking? This street corner feels unsafe, why isn't this cycle path better lit?
The team has big plans: not only will the service improve local democracy and increase citizen activity, but local businesses, city authorities and organizations could also gain important information. This could lead to more efficient use of resources, and neighbourhoods would be better equipped to fulfill the genuine needs of their residents in the future.
Want to help this team? Become a Helsinki Challenge partner here.
TEAM: Team leader Maria Niemi (Graphic designer & service designer / Aesthetics student, UH), Feodor Mayow (Designer), Roosa Riski (Interior Architect & Designer), Samuli Helavuo (Designer) Elina Viinikka (student, UH, Faculty of Social Sciences), Sanna Ritvanen (Designer & Artist), Onni Aho (Designer), Justus Kontiola (Audiovisual artist), Tuomas Orispää (student, Lahti Institute of Design).