The competition intensifies and team Tell Us is happy for many phases throughout the year. They are especially happy for one of the most recent ones, a walk-in citizen workshop on urban design at Käpylä street festival this spring. At their workshop, people got to glue stickers on a map of Helsinki, stating their favourite and least favourite spots. The team noticed interesting correlations on people's favourite places. The greatest amount of loved places were found outside of the city center, although the city center is home to most of the cafés and entertainment.
"The event was a great success! We were surprised by how many people wanted to join and tell their opinion and stories. We definitely want to do more hands-on work with people", team leader Maria Niemi says. They were also happy to have reached less heard groups, like exchange students and immigrants.
Something that designer Ferdi van Heerden said at Impact Camp last spring has followed the team, reinforcing their own thoughts. He said that there is never only one solution to solve a task, but many, which you can all use to solve your challenge. Meeting him was an important step along the road of the team of designers. After the Käpylä workshop the team had a feeling that their solution might be a set of services, a package solution to solve the dilemma of how to get citizens' ideas into the use of urban planners.
"The advantage of being a part of Helsinki Challenge is that we have been positively pushed to ponder and refine our idea. The process has been fruitful and educative", Niemi says.
Remember their competition idea? Team Tell Us is creating a fun and easy service where citizens can add information and tell their opinions about their neighborhood. The team is made up of designers and former students of aesthetics, political and social sciences. They want to develop local democracy and benefit from the experiential knowledge citizens have. The idea is to get a wider base of information for city decision makers and companies to use. Beautifully visualised neighborhood information can soon be available to everyone. Making an impact on the city is only one click away!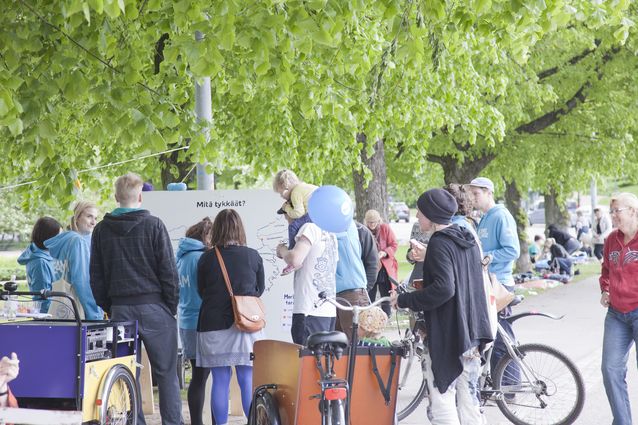 Come hear Tell Us pitch their competition idea on stage at PitchNight on Thursday, September 3rd. The announcement of the winner of Helsinki Challenge (and 375000€) is announced on Friday, November 13th.
TEAM: Team leader Maria Niemi (Graphic designer & service designer /Aesthetics student, UH), Feodor Mayow (Designer), Roosa Riski (InteriorArchitect & Designer), Samuli Helavuo (Designer) Elina Viinikka, Student (student, UH, Faculty of Social Sciences), Sanna Ritvanen (Designer & Artist), Onni Aho (Designer), Justus Kontiola, (Audiovisual artist), Tuomas Orispää (student, Lahti Institute of Design).