When Helsinki Challenge started, team Happiness Project had a mission to enhance people's happiness by creating awareness of language and interaction. The goal is still the same, but the means to do it have become concrete during the competition.
The Happiness Project's solution to change the world into something happier is to get interaction skills to be taught in schools and to be a part of the national curricula. Schools don't teach interaction skills in course form, although school would be a natural place for it. These interaction skills could be taught alongside mother tongue classes for example.
"Our aim is to teach children how your relationship is formed to another person through interaction. The answer to happiness is found very close, we don't need to look further than a good school day and everyday life", says team leader Laura Visapää.
The team noticed that happiness is a compelling topic. They are contacted from the media as well as individual people interested in happiness research. They have made collaboration plans for example with two renowned American researchers who became interested in the team's idea. They even got two new team members along the way: social psychologist Jennifer de Paola and singer Maija Vilkkumaa, who also used to study Finnish language.
The team has learned to act outside of their comfort zone and talk about their project on many different frontiers.
"The advantage of Helsinki Challenge has been its publicity to our project. This amount of contacts is not so common in all of our research projects", Visapää laughs.
Remember the team's competition idea? The Happiness Project is researching how happiness and wellbeing grow out of interactional and linguistic practices. If we were to change some of our linguistic and interactional practices, the impact on our happiness could be immense. The Happiness Project combines linguistic research with insights from an array of sciences, including neuroscience, philosophy and anthropology.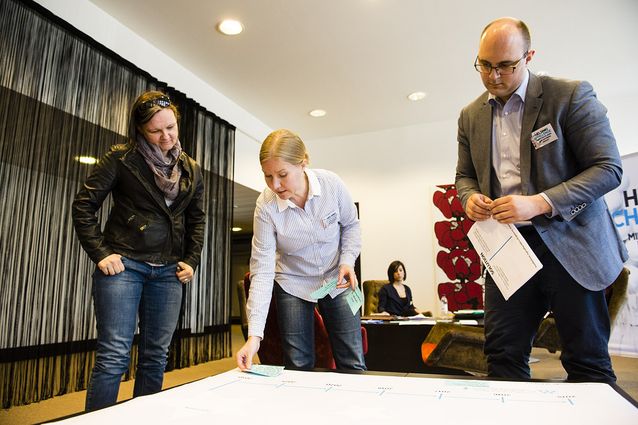 Come hear The Happiness Project pitch their competition idea on stage at PitchNight on Thursday, September 3rd. The announcement of the winner of Helsinki Challenge (and 375000€) is announced on Friday, November 13th.
TEAM: Team leader Laura Visapää (Docent, UH), Ilona Herlin (Docent, UH), Tomi Visakko (PhD student, UH), Eero Voutilainen (PhD student, UH), Jennifer de Paola (PhD student, UH), Maija Vilkkumaa (singer).