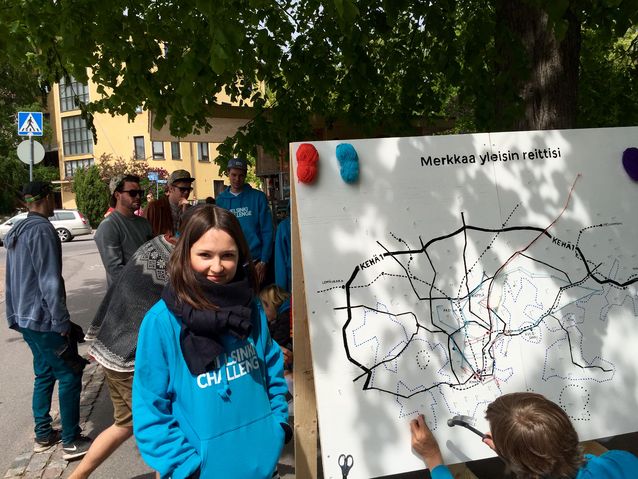 Reggae music pulses through the air. People are sprawled on picnic blankets on the lush green grass around a traditional lippakioski coffee kiosk in Helsinki's Käpylä neighbourhood. It's the bi-annual Käpylä street carnival weekend, and Helsinki Challenge is taking part in the festivities: semifinalist team Tell-Us has organized a walk-in citizen workshop on urban design.
Team members wearing bright blue Challenge hoodies are gathered around a huge sandwich board with big maps of Helsinki. Tell-Us is composed of young designers and urban planning students, who have a very hands-on approach on their subject. The team aims to build easier and more direct ways for citizens to participate in their surroundings and to get information about their urban environment. Tell-Us has been talking about building the Tinder of urban design, but on this sunny Saturday there isn't a digital device anywhere to be seen.
"It's important to think of other ways to engage people, too. Focusing entirely on the digital world means excluding certain groups. Here we're testing ways to combine both approaches", says team leader Maria Niemi.
Stickers, maps and string
They seem to be on to something: lots of people are stopping and milling about, sticking different coloured stickers on their favourite and least favourite places in the city on the map, as well as marking neighbourhoods they think have lots of potential that hasn't been taken advantage of. Others are marking their daily commuting routes with string and knitting yarn. Soon the maps are a treasure trove of information.
Petri Mäkinen lives in the city centre, but came to Käpylä for the carnival with his two children and stopped by at the workshop.
"I guess there are services online to express your views on the city, but they seem hard to find – or at least I haven't used any", Mäkinen says. He liked the idea of being able to casually walk by and stop for a fun activity with his kids.
"This way of giving information seems less like a chore. They could take these boards all around the city and do this everywhere", Mäkinen suggests.
They just might, says Niemi.
"This has proved to be a pretty engaging way to participate in your city. People seem to enjoy it a lot. We'll definitely do more of this."