Helsinki Challenge, the science-based idea competition launched to celebrate the University's 375th anniversary, is getting more and more exciting. Join us to watch all of the 20 Helsinki Challenge semifinalist teams take the floor for the very last time at the Great Hall of the University on September 3rd 2015. The evening will be our last major semifinal event, and your last chance to see all semifinalist teams before the finalist shortlist. Come and see the Helsinki Challenge teams in action!
Each team has 5-7 minutes to present their solution to promote the world's wellbeing. The evening will feature innovative ideas, fresh insights and future visionaries. Learn about the teams via this link.
Research at the University of Helsinki strives to provide solutions to the major challenges and for the future wellbeing. Helsinki Challenge, the science-based idea competition highlights innovative ideas and the teams behind them. The accelerator programme started at the beginning of 2015 offered the 20 semi-finalists a unique opportunity to develop their ideas further. The competition prize of 375,000 euros will be presented at an international gala to take place in November 2015.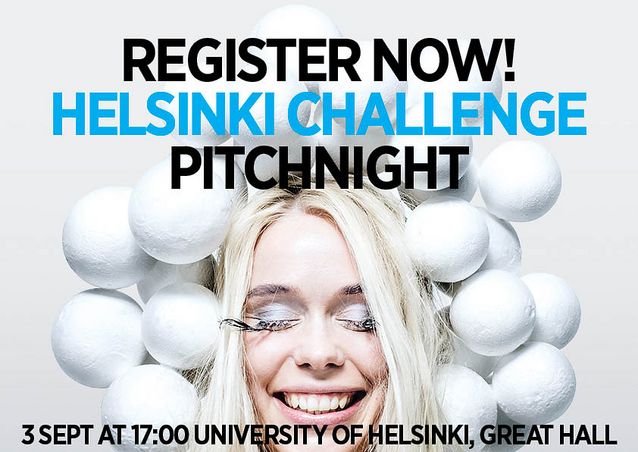 Helsinki Challenge PitchNight, 3 September at 17.00 Registration via this link!
University of Helsinki Great Hall, entrance and cloak room at Aleksanterinkatu 5
17:00-18:30 Following teams on the stage
18:30-19:00 Break, refreshments and snacks
19:00-20:30 Following teams on the stage
Helsinki Challenge PitchNight 3.9. klo 17 – ilmoittaudu nyt!
Helsingin yliopiston juhlasali, sisäänkäynti ja vaatesäilytys Aleksanterinkatu 5
Jännitys tiivistyy! Tule mukaan Helsinki Challenge –iltaan ja näe kaikki 20 semifinalistitiimiä Helsingin yliopiston juhlasalin lavalla viimeisen kerran ennen tuomariston finalistivalintoja. Vuoden 2015 alussa käynnistyneessä kiihdyttämöohjelmassa tiimit ovat luoneet ratkaisuja globaaleihin haasteisiin ja tulevaisuuden hyvinvoinnin rakentamiseen. Ratkaisujaan he ovat kehittäneet yhteistyössä elinkeinoelämän, päättäjien, median, alumnien ja monien muiden sidosryhmien ja kumppaneiden kanssa. Kilpailun teemoja ovat terveys ja hyvinvointi, globaali Helsinki, tulevaisuuden oppiminen, uusi maailmankuva ja muuttuva ympäristö. Helsinki Challenge nostaa esiin uutta luovat ideat ja tiimit niiden takana. Kilpailun palkintona jaetaan 375.000 euroa kansainvälisessä gaalassa marraskuussa 2015.
Tule mukaan Helsinki Challenge –iltaan kannustamaan suosikkiasi! Jokaisella tiimillä on 5-7 minuuttia aikaa esittää ratkaisuehdotuksensa maailman parhaaksi. Luvassa on innovatiivisia ideoita, raikkaita ajatuksia ja tulevaisuuden tekijöitä.