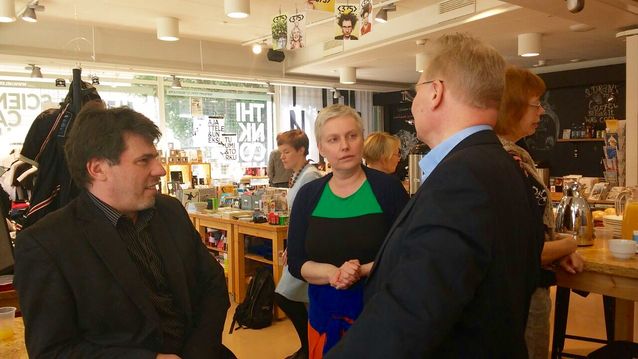 The sunshine casts a wonderful light into Porthania as Edina Rudner, Kaisa Haukka, Leena Räsänen and Christina Lyra take the stage. These researchers are pretty radiant themselves, and together they form Lab Impact Africa, one of the remaining teams in this year's Helsinki Challenge. Their goal, as well as today's talk, is about laboratory facilites in developing African countries. Alongside them is Dr. Isidore Bonkoungou, their partner in LIA's pilot lab project, who's just arrived in Finland from Burkina Faso.
"Burkina Faso is not high in wealth listings, but the situation seems to be getting better in our field", Haukka notes. Bonkongou agrees. He couldn't be happier about the project's timing.
"This is a very good time for this project, and a great opportunity for my country. We still have a very basic lab system in Burkina Faso, and we need new methods in the bioinformation field and molecule laboratories, but we're now getting to a point where we are ready to contribute something as well", he says.
"We don't really have medical networks in Burkina Faso. But if Lab Impact Africa is successful, we can start one."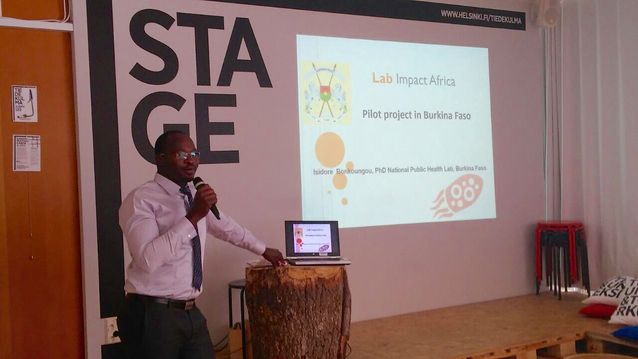 That's what Bonkoungou wants: to be the first to set up a network. He calls for a more human approach, and a chance for people to learn. In general he would like to involve and empower more different people.
One of the Finnish team's main goals is for all of the members to actually travel to Burkina Faso.
"We can't sell our project to the country's government if we don't go there in person", Haukka says. She is the only one of the team who's actually been to Burkina Faso so far.  "We come from Finland, a rich part of the world, and we can't afford to travel to Africa", she laughs.
Developing an eye for business
Funding, in fact, has been a main priority for Lab Impact Africa this past spring. Since the team is not selling a concrete product, such as equipment, as much as they are focused on human capacity building, education services and training, funding has proven to be a challenge.
"At the moment, we're making a business plan about what we have to do, what our product is, and how to communicate about it in a way that attracts possible funders", team member Leena Räsänen says.
Luckily, the team has already had consultation and sparring sessions with helpful collaborators. "We just need to put our know-how into a shape that we can offer to the right people", Räsänen continues. Thankfully the know-how is there already. As Bonkoungou puts it:
"It's not just about the money, it's also very much about having the proper conditions and a vision."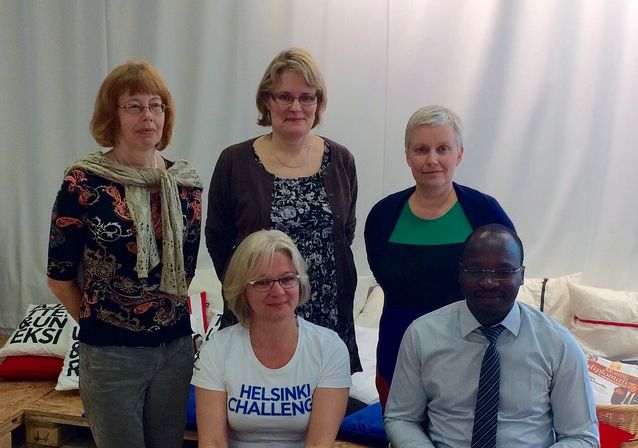 An eye-opening experience
Helsinki Challenge seems to have been an eye-opening experience for both the Finnish team and Dr. Bonkoungou. "The Challenge has really aired out our minds from a researcher's point of view", Räsänen says. "It should be organized every year."
According to Bonkoungou, the collaboration has gone very smoothly. He also appreciates the Nordic mindset.
"People in Finland have been open and humble", he says. "When people are that way to you, it makes you confident and strong. I've also realized here how important it is to remember humanity and human values."