Engaging Working Environments rethinks the future of workplaces. As technology has challenged the concepts of time and space, our ways of working have changed. New forms of information-intensive work have stepped onto the scene, bringing along more complex demands regarding our work spaces. Technology and our increasingly socio-digital behaviour add to the possibilities of these environments. How can we create an engaging workplace that maximizes learning, collaboration, productivity and well-being? The team's idea is to create new physical, social and virtual spaces that also support each other by combining new technology, digital participation, pedagogical planning and service architecture as well as servant leadership.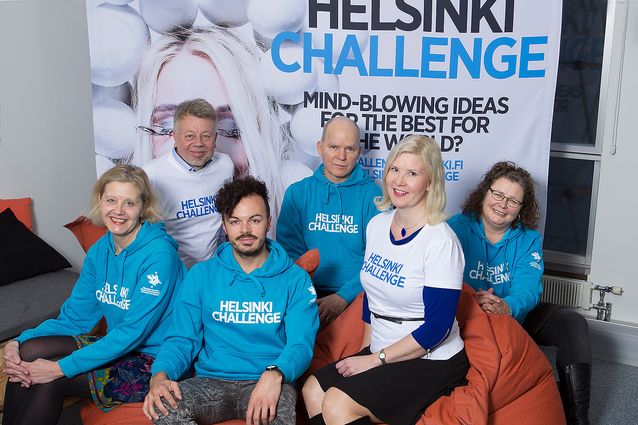 Creativity flourishes in surprising spaces
So what could a workplace of the future look like? The physical workspace will consist of multi-functional and shared spaces that can be modified to suit changing needs. There will be spaces for quiet work as well as spaces for dynamic, even noisy collaboration and spontaneous encounters. Unnecessary parallel functions will be eliminated and thus lead to real estate cost savings and ecological sustainability.
"Open plan offices are so 1980's", says Helsinki Challenge semifinalist team member Niclas Sandström."We envision a workplace with "in between spaces", where people meet and which are important for collaboration. Important revelations are born at the fringes of spaces and ideas. We have Eureka moments involuntarily, not necessarily sitting at our desk", Sandström adds.  
Pilot projects have already been started with the University of Helsinki, Tapiola school and an office environment, which have led to a measurable impact on engagement and productivity.  
The team is made up of psychologists, educationalists, and architects as well as PhD students specialized in learning environments. For Helsinki Challenge, the team will set up a living laboratory, which will be a working place for research groups and start-ups to develop new pedagogical socio-digital solutions.
Want to help this team? Become a Helsinki Challenge partner here.
TEAM: Team leader Kirsti Lonka (professor, UH, Department of Teacher Education), Kai Hakkarainen (professor, UH), Leena Krokfors (professor, UH), Suvi Nenonen (adjunct professor, research manager, Aalto University), Katariina Salmela-Aro (professor, UH), Jarmo Suominen (professor, Aalto University), Niclas Sandström (PhD Candidate, UH), Lauri Vaara (PhD Student, UH).