Team Higher Education Unbounded is excited to be on their way towards the new trials that autumn brings. Back from a brainstorming camp of their own, the team is now preparing for Thinkfest.
"We just spent two days at Lammi finalizing our innovation. The team is really devoted to our competition idea and we have great will to make it to the final," says team leader Katalin Miklóssy.
Miklóssy says she has been involved in several research projects, but describes the Helsinki Challenge as something very special in its intensity. The project has truly been put to the test, when the team piloted their invention in May in Tbilisi, Georgia.
"Two Belarusian universities were also in this experiment with us in Georgia. It was so successful that we received an invitation to return to Georgia and to teach in the Faculty of Teachers' Education. Next up we're heading to Turkey, where there is a little pedagogical training of the university teachers. We have also been negotiating with a Chinese delegation, who is coming to Helsinki this fall", Miklóssy says. The team intends to get their methods into use in Finnish high schools as well.
Remember the team's competition idea? Team Higher Education Unbounded argues that our teaching and thinking may be restricted by institutions, ideologies, norms, taboos, simple fear — or limits of what we know. Current teaching methods are however designed staying in the comfort zone. Consequently, the team took up the challenge to go beyond the teachable and find ways to teach the unteachable. The team invented a new approach to teaching and learning called WeQ Pedagogy. This is based on the idea that instead of IQ and the individual, in education we should be concentrating on WeQ. This means creating a collaborative learning culture, embracing constant dialogue and flexibility to different perspectives.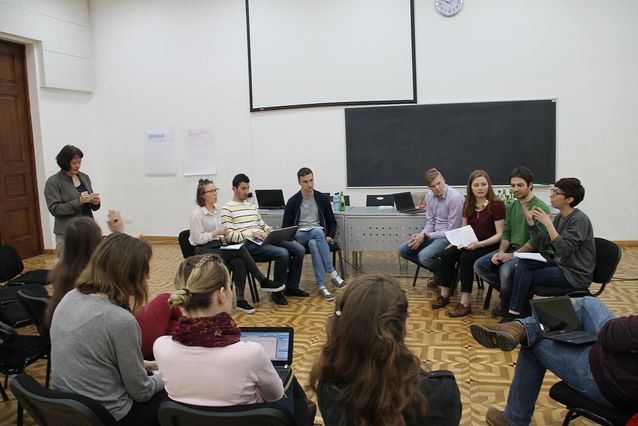 Come hear Higher Education Unbounded pitch their competition idea on stage at PitchNight on Thursday, September 3rd. The announcement of the winner of Helsinki Challenge (and 375000€) is announced on Friday, November 13th.
TEAM: Team leader Docent Katalin Miklóssy (senior researcher, Dr., founding Member of the Teachers Academy, Aleksanteri Institute, UH), Suvi Kansikas (Dr., Network of European Studies, UH), Emilia Palonen (Dr., Dpt. of Political and Economic Studies, UH), Anne Nevgi (Docent, Centre for Research and Development in Higher Education, UH), Chris Holtslag (MA, CH Industries), Jarmo Koponen (MA, Vikes ry), Minna Hakkarainen (Dr., Aleksanteri Institute), Erika Löfström (Docent, Centre for Research and Development in Higher Education, UH).