Team Genetic correction of inherited hemoglobin disease is gathering their troops and preparing for the second phase of the competition, currently contacting Finnish doctors and possible collaborators.
Their competition idea is to create a cure to the world's most common blood disorder, beta-thalassemia. When a person is diagnosed with an inherited disease, there is not much use of genetics - so far. The team wants to reprogram the patient's own stem cells to produce the beneficial fetal hemoglobin. Success would mean a universal treatment for any patient suffering from the blood disorder – and possibly new opportunities to cure other inherited diseases.
"We already have the science, the solution works", says team leader Kirmo Wartiovaara. Now they need to get the solution into use. Their challenge is that the time span for getting their solution into practice is much longer than the competition's time span. Only testing the solution on patients takes about ten years.
Wartiovaara recently moved back to Finland from California. Although it is now easier to prepare for the upcoming PitchNight, his time in the States has been beneficial.
"A certain "just do it" attitude has been contagious and it seems to resonate in Helsinki Challenge. Being a semifinalist in Helsinki Challenge has given us a name and a brand. We have our own recognizable project. People take our solution more seriously after hearing we are a part of the competition. It has also been amazing and interesting to see and get to know the other teams and the science they do."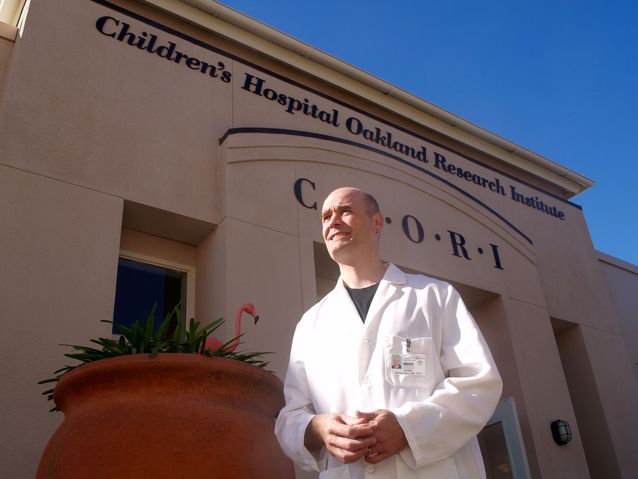 Come hear Kirmo pitch their competition idea on stage at PitchNight on Thursday, September 3rd. The announcement of the winner of Helsinki Challenge (and 375000€) is announced on Friday, November 13th.

TEAM: Team leader Kirmo Wartiovaara (UH Research Programs Unit (RPU), Faculty of Medicine and HUS Kliininen genetiikka, David I.K. Martin, M.D (Childrens Hospital Oakland Research Institute (CHORI)), Mark C.Walters, M.D. (CHORI), Denise Munoz, PhD (CHORI), Timo Otonkoski, M.D. PhD, professor (RPU, UH), Diego Balboa, MSc (RPU UH).