Team Play Learn Heal has gathered after the summer and is pondering whether to present only one concrete solution to the jury or perhaps a whole think tank of solutions.
Team leader Kristiina Kumpulainen, has the summer break sparked new thoughts concerning the competition?
"Yes, many. We faced an unfortunate event this summer as my son broke his arm badly and we found ourselves in the middle of a hospital process. This experience was a concrete catalyst in coming up with solutions for example on how to make visiting a hospital a more pleasant experience. My own thoughts on our competition solution focuses largely on creating a think tank or idea incubator to come up with more of these concrete solutions. The solution needs the aspect of so many actors, that a permanent environment for these ideas needs to be created."
How has Helsinki Challenge helped in this process towards a concrete solution?
"Helsinki Challenge has given us good publicity, sparring of our ideas and connections to important people. We have networked for example with EU projects that produce digital health solutions as well as Finnish actors who have supported us and innovated with us for new kinds of solutions for our competition idea. Our challenge for the second part of the competition is to choose one concrete solution to present to the jury."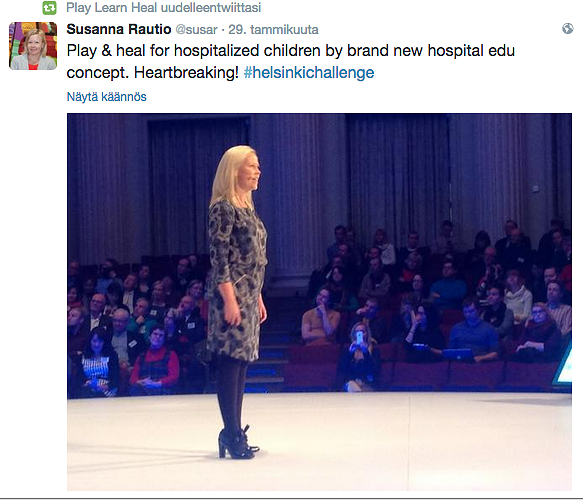 Remember Play Learn Heal's competition idea? They are creating a new and comprehensive solution for enhancing the well-being and learning in children's hospitals. The solution entails new services, teaching methods, technological and digital tools as well as playful learning environments. The solution can be used nationally and internationally. Child patients living between a hospital and their home is hectic and puts an unnecessary strain on a child's life. They face many challenges related to their learning and well-being. How could we help the child patients feel empowered and connected? Developing technology provides groundbreaking possibilities to support well-being and learning regardless of time and space.
Come hear Play Learn Heal pitch their competition idea on stage at PitchNight on Thursday, September 3rd. The announcement of the winner of Helsinki Challenge (and 375000€) is announced on Friday, November 13th.
TEAM: Team leader Kristiina Kumpulainen (professor, UH), Lotta Uusitalo-Malmivaara (lecturer, UH), Heidi Sairanen (doctoral student, UH), Riitta Smeds (professor, Aalto University SimLab), Otso Hannula (doctoral student, Aalto University SimLab), Jussi Mertsola (professor, TYKS/New Children's Hospital project), Jari Petäjä (Pediatrician, HUS), Sanna-Maria Kivivuori (Chief Administrative Medical Officer, HUS), Pekka Lahdenne (Senior project manager, New Children's Hospital project, HUS), Marjo Kyllönen (City of Helsinki), Marja-Liisa Autio (Principal, Sophie Mannerheim hospital school) and teachers Nina Myllylä, Anna-Kaisa Lindquist, Jarmo Lehtonen (Sophie Mannerheim hospital school) and Harri Mantila (Masku Kurittula primary school).